Employee Self Service

(ESS)
The AMS Employee Self Service (ESS) allows users to view & access their information from a single platform. It enables them to book leaves, get approvals, mark attendance and manage conveyance. The ESS is user-friendly and it enables streamlined and efficient business processes. There is easy managing & maintaining of data. Further, the AMS ESS allows employees to apply for reimbursements. This module is aimed to empower employees and managers so that they perform their jobs responsibly. The AMS ESS offers efficient means of collecting employee detail changes. It's ideal for organizations spread over several physical locations.
Benefits
'Go Green' and efficient with paperless information management and increased accuracy of performance data.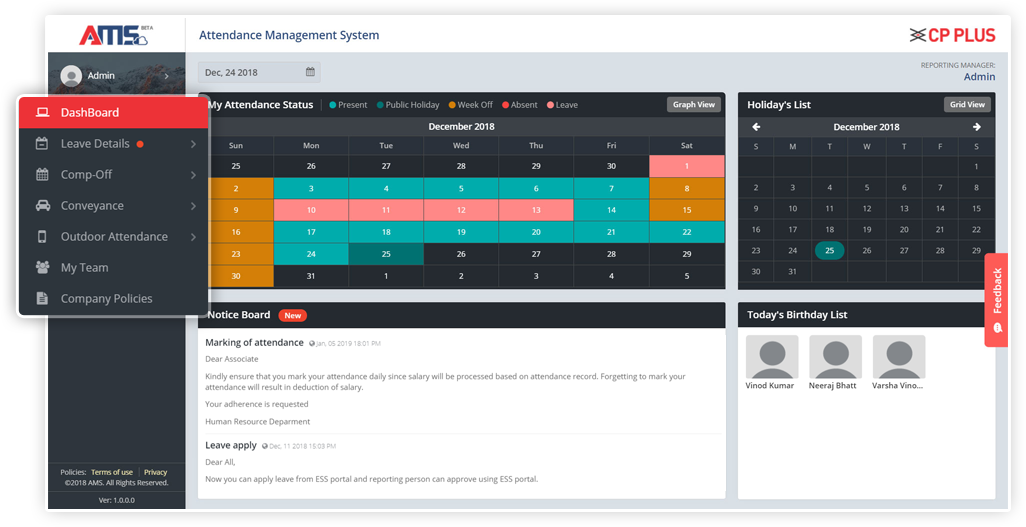 Other Details
An efficient means for collecting day-to-day employee information, especially in organizations having operations spread across multiple locations.
Features
Efficient means for collecting everyday information of employees
Leave apply & approve the system
Attendance card integration along with shift management
Conveyance claim, apply & status
Outdoor apply & status
Synchronization of HR data with excel sheet (coming soon with SAP as well)