Maintaining an accurate staff directory can be arduous yet indispensible. The AMS corporate directory makes managing and synchronizing employee details simple and easy. Featuring Active Directory hooks and built-in single sign-on capabilities, the AMS corporate directory ensures smooth administration of employee details.
This feature is coupled with a search box, placed right at the top levels of the portal, for looking up phone numbers and other employee directory information.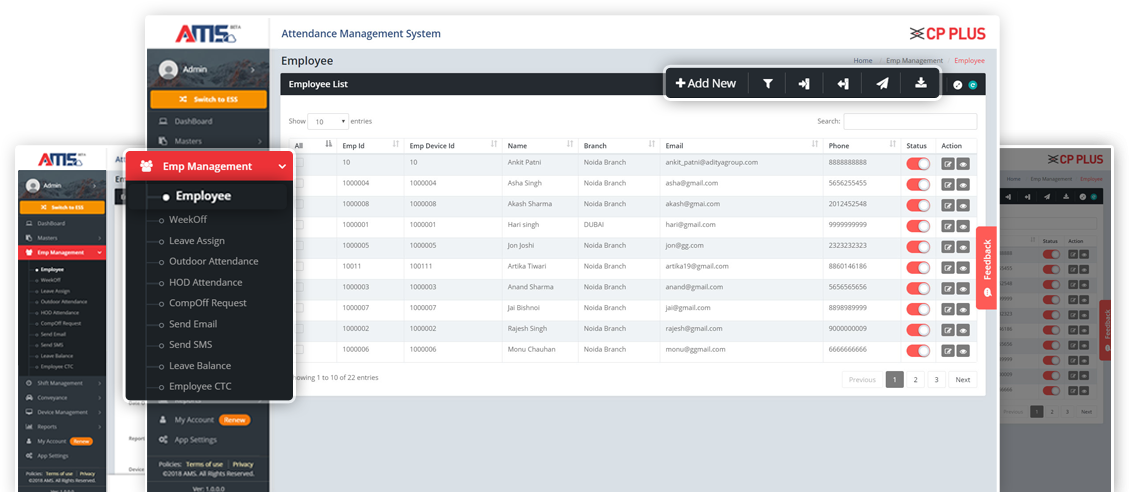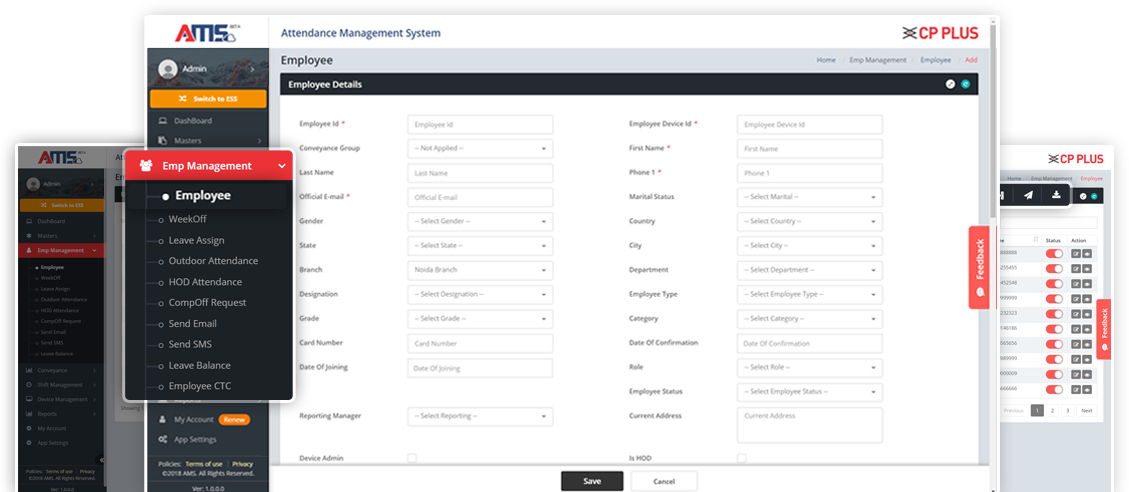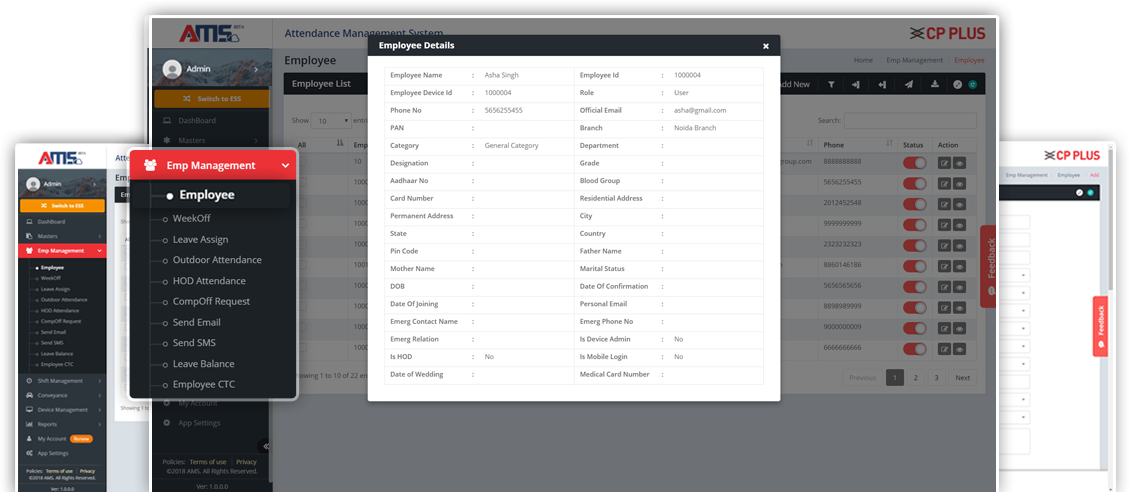 Other Details
The Search Box is accessible from any page/module. Easy to use and provides quick results should you have a long list.
The Admin can look up and edit the details of employees.
A wide range of filter criteria available to offer tailored directory results.
An ideal Leave Management software should facilitate the entire leave process starting from viewing leave applications submitted by employees; approval from the respective Supervisor; management and reporting thereof to setting up specific parameters such as leave type (sick leave, maternity leave, etc.).
The AMS Leave Management allows you to not only manage the entire leave management process but also customize the software packages as per your specific needs/policies thereby enabling you to manage your resources and improve the overall company's productivity in a much better way. The HRD can always be up to date with their leave records. That's not all; with comprehensive reporting, the AMS Leave Management provides a wealth of information about your company's HR at your fingertips in no time.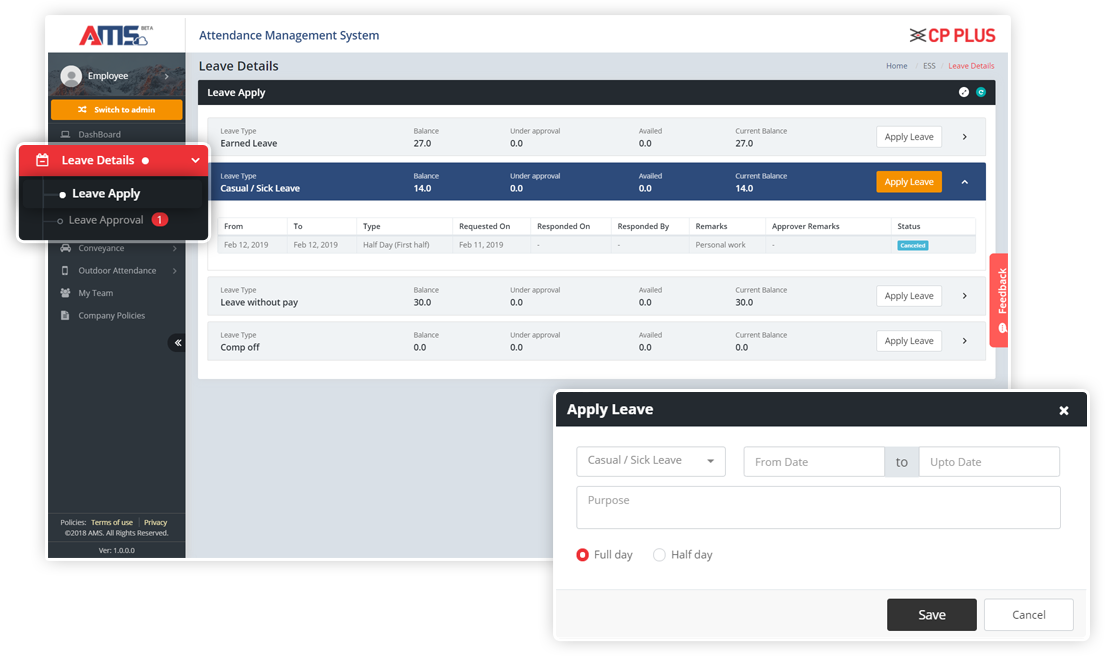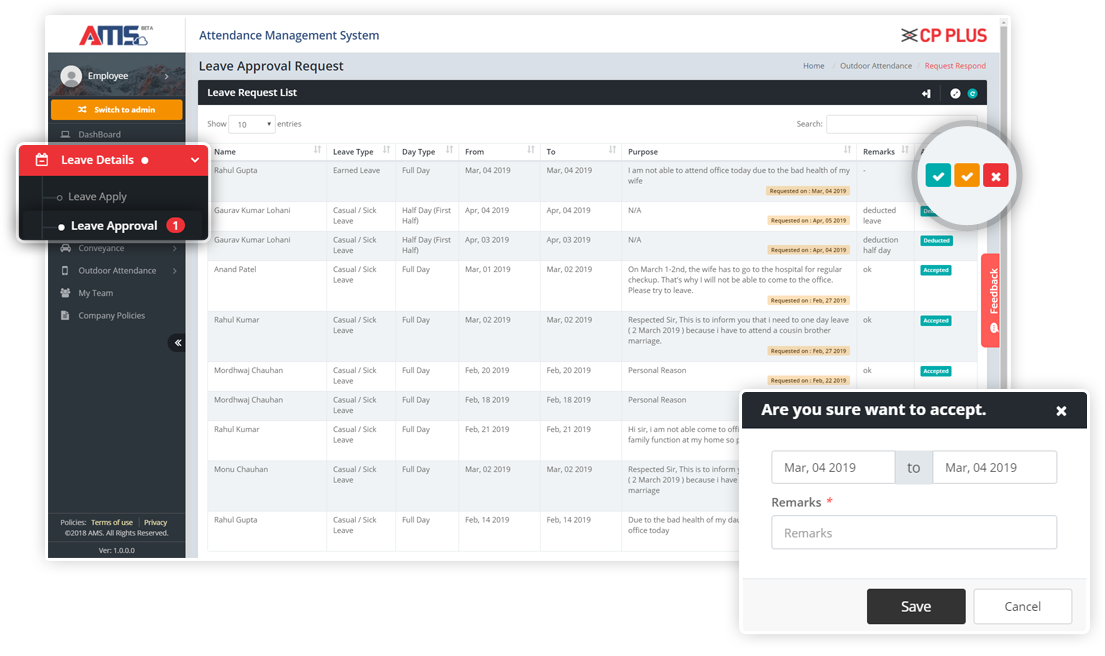 Other Details
The admin has the sole authority to monitor and manage all the information
With automated recording and management, the cost of resource is saved
Robust data security
Flexible & Customizable
Making leave requests.Simple & Quick. Employee self-service.
Features
Online application for both short and long leaves
Customization of leave types as per your company policy
Leave management system tracker- Configure holidays on the basis of branch
Manage and track all the leave information of your organization
Leave restrictions and different color codes of different leave types
The department leave calendar- Track the employee leaves dept. wise. The appointments, meetings or events may be easily scheduled according to the presence of the employees.
Expense Management modules have become indispensible - income cannot be computed aptly if expenses are not ascertained appropriately, and similarly gains can be realized only if spending is defined accurately and timely.
The AMS Conveyance management module enables convenient and timey management of expenses each time you need it. It offers a secure way to store and retrieve transaction data without having to purchase highly sophisticated servers. It is user-friendly too.
Business management is more than just simple budget calculations. It involves managing corporate conveyance in an optimum manner without compromising on productivity and quality. An ideal business travel expense management module will facilitate reduced travel expenses and efficient administration. Considering that every organization has its own policies and procedures, AMS allows a design that ensures compliance with them whilst ascertaining conveyance costs.
Benefits
Time saving as most of the procedures become automated
User-friendly design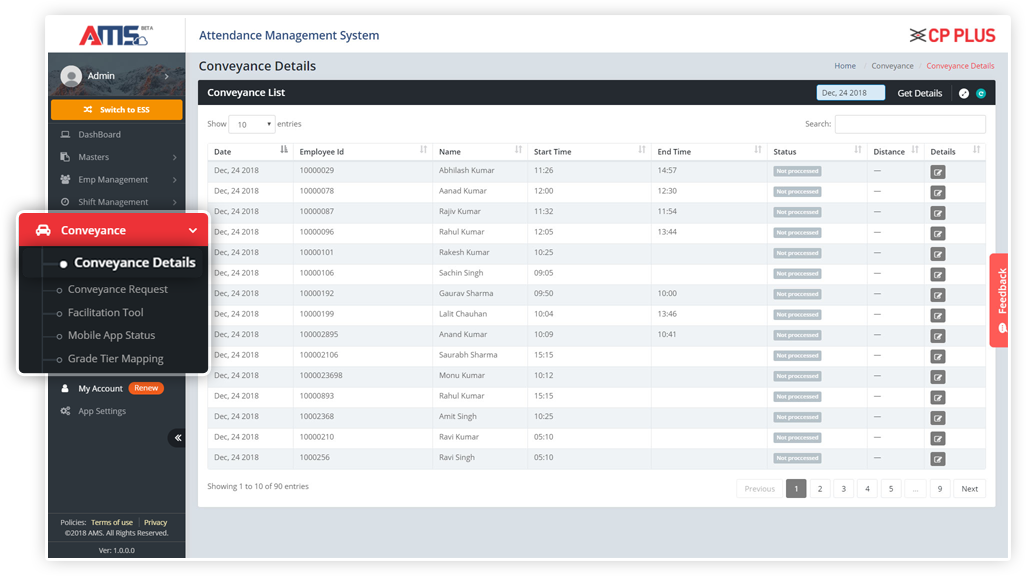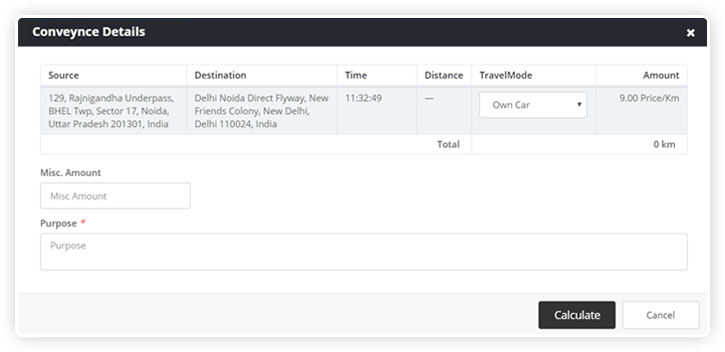 Other Details
Say goodbye to paper forms and complicated spreadsheets.
Each and every rule and policy can be implemented
Enables hassle free conveyance
Helps in improved cost management with an useful travel spend analysis
Improves employee satisfaction because the processes are more systematic and organized
It's totally paperless
Maximizes the speed for travel claim approval process as no conventional methods that include manual paper methods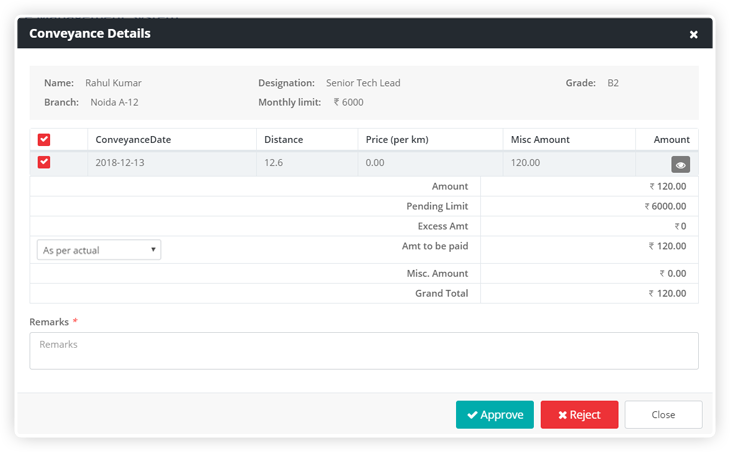 Features
Organizational policies can be easily implemented within this module
Enables hassle free conveyance management
Improves cost management
Improves employee satisfaction as processes become more systematic and organized
Paperless procedures
Maximizes the speed for travel claim approval process
Employee Self Service

(ESS)
The AMS Employee Self Service (ESS) enables users to view and access their data directly, book leaves, obtain approvals, manage conveyance and mark attendance all from a single platform. It is user friendly and promises a "paperless" office, streamlined and efficient business processes, and the elimination of manual intervention of HR personnel in managing and maintaining data.
Additionally, the AMS ESS enables employees to apply for reimbursements through online forms and have them directed to the respective manager for consideration. It is aimed at empowering employees and managers to take more accountability for their jobs and development and perform responsibly.
The principal advantage AMS ESS is that it is a more efficient means of collecting changes to employee details. This is particularly true for organizations dispersed over a number of physical locations.
Benefits
'Go Green' and efficient with paperless information management and increased accuracy of performance data.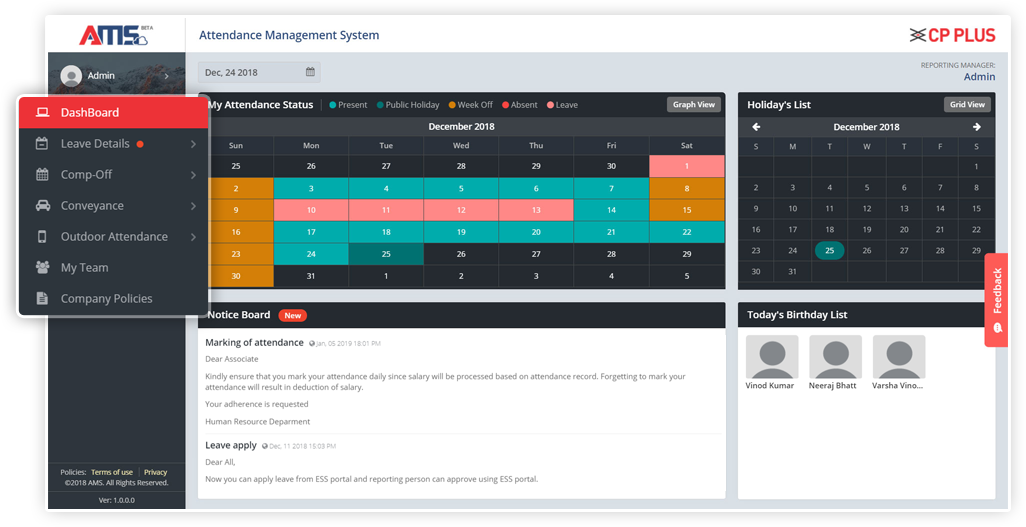 Other Details
An efficient means for collecting day-to-day employee information, especially in organizations having operations spread across multiple locations.
Features
Leave apply and approve System
Attendance Card Integration with Shift Management
Local Conveyance Claim, apply, status
HR Data Synchronization with Excel Sheet (comming soon with SAP also)
Outdoor apply, status
Outdoor attendance system has become an important part of staff management. Currently, labor cost amounts to about 30 – 50% of the Outdoor projects. This high cost is may be caused by inefficiencies such time theft by employees, ghost workers and excessive overtime payments. AMS Cloud solves these challenges by introduction of tools in the outdoor employee application.
Using field service attendance software, employees worked time is tracked, and used to calculate the payments. Also, AMS Cloud software provides features for recording employee location. Thus, an employee must attend their required location, for them to mark attendance using application for fieldworker.
Unlike other applications, AMS Cloud outdoor employee application provides a method of measuring employee performance. here, the low employee performance has been found to contribute increasing expenses beyond the the expected budget for outdoor projects. The only way is to have an outdoor attendance software for field workers that fits the needs of the employees and the employers.
With the AMS Cloud outdoor attendance system workers, the management will be able to schedule tasks to the workers who are who mark attendance using fingerprints. As a result, ghost workers will automatically be eliminated.
The employees who clock in at the right time will help the management to know the number of hours for which they have worked. The application for fieldworker will then calculates their working time either in daily, weekly or monthly.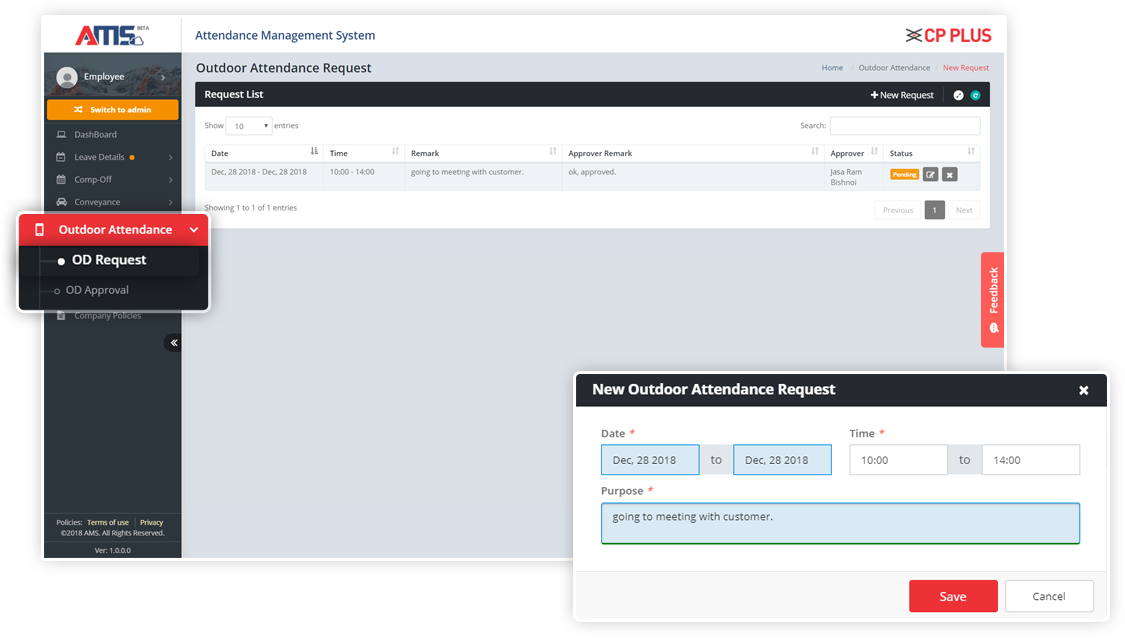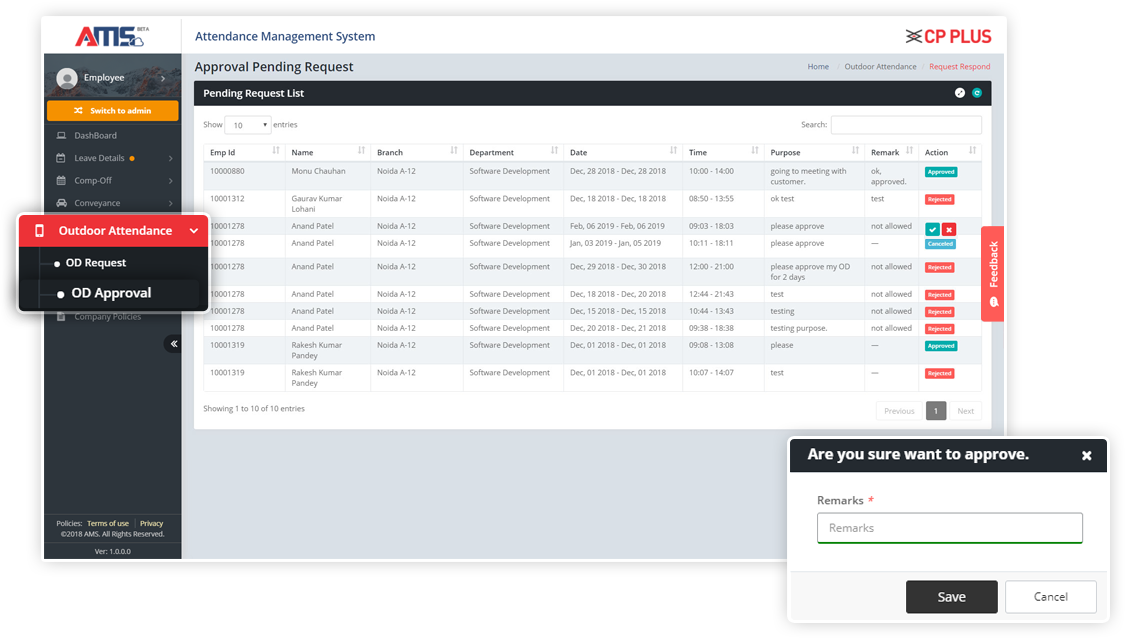 Features
Use best field service attendance software to reduce operation cost
Eliminate time theft by employees by 100% using outdoor employee application
Increase productivity using outdoor employee application
AMS outdoor improves staff communication.
Produces a Happy team
AMS is the best outdoor attendance software that works online and with live updates.
Best outdoor attendance software with application for fieldworker for performance evaluation
Efficiency in employee performance
It decreases the time to complete the task
You have the ability to set up holiday settings that can be specific per location. This means that the next time you create or upload a new employee, the system will take into account their location and apply these settings to their record.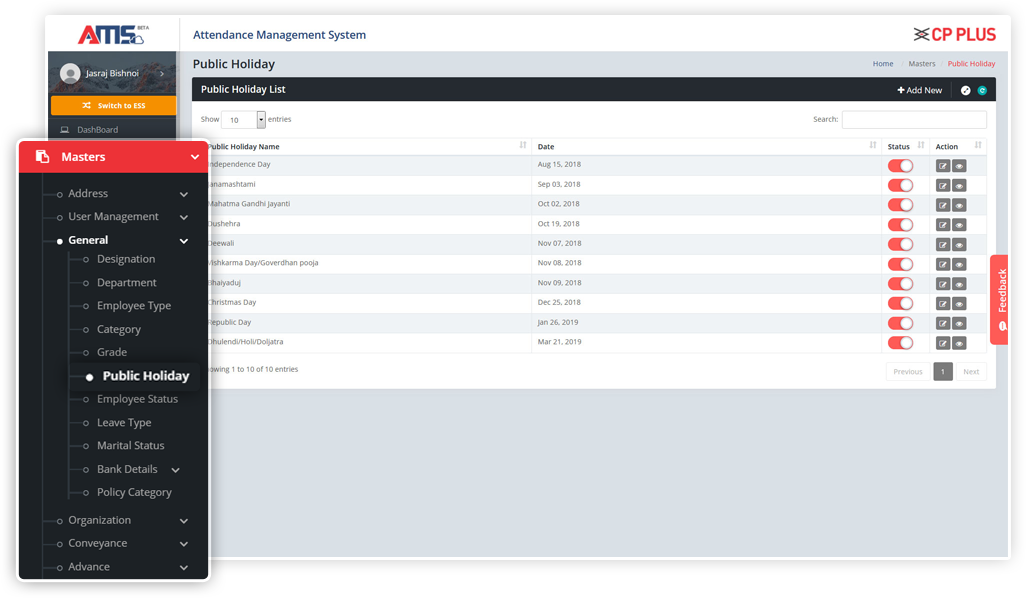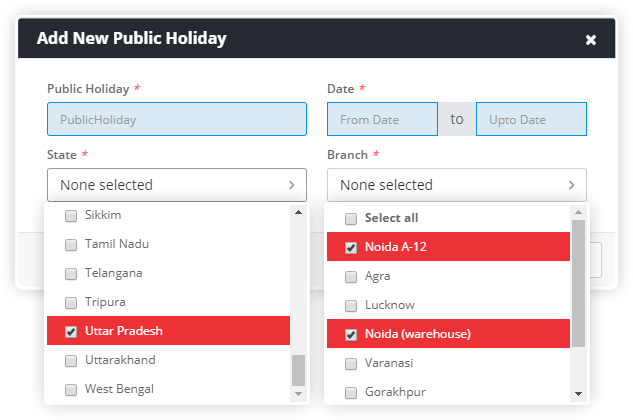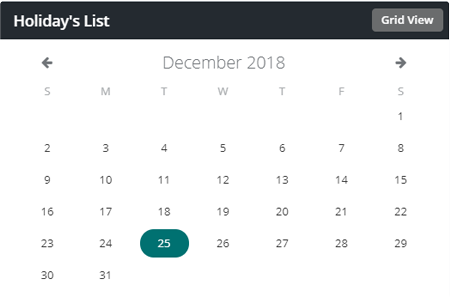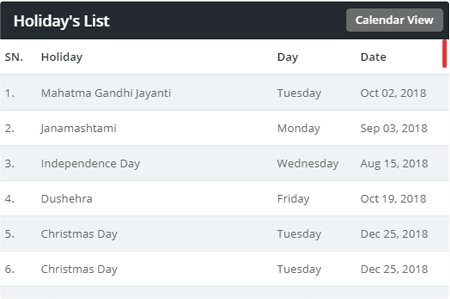 Features
Completely customisable public holiday management.
Company can configure public holiday branch or state wise.
Beautiful calendar view for employee in ESS.
Employee monitoring is a tactic many managers, human resources departments, and business owners use to track the performance and productivity of their employees and as a means of security. Data gathered with this method can be analyzed to find trends, patterns, and correlations to gain insight into the business process and how to improve it.
Employee monitoring gives companies an overall picture of how work is done in and out of the office. All sorts of data make up this image, including which applications get the most use, the amount of time spent on unproductive tasks, and what time of day each employee is most productive.
You can imagine the applications of this data and how it could dramatically improve your business process. Use it to determine why one sales team is more successful than another. See if you need all of those expensive software licenses. Find out the most productive time of day and assign the most critical tasks to your team then.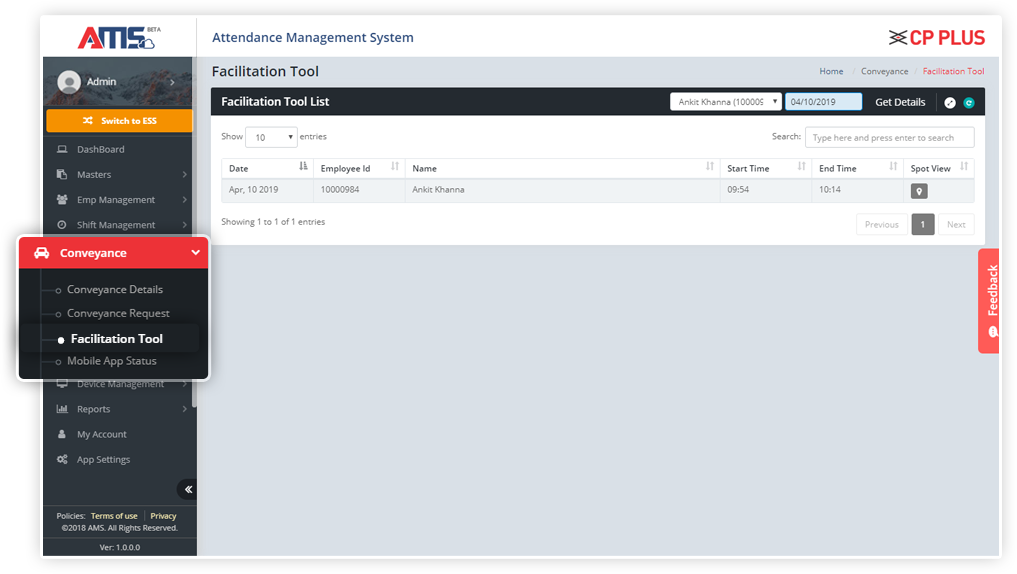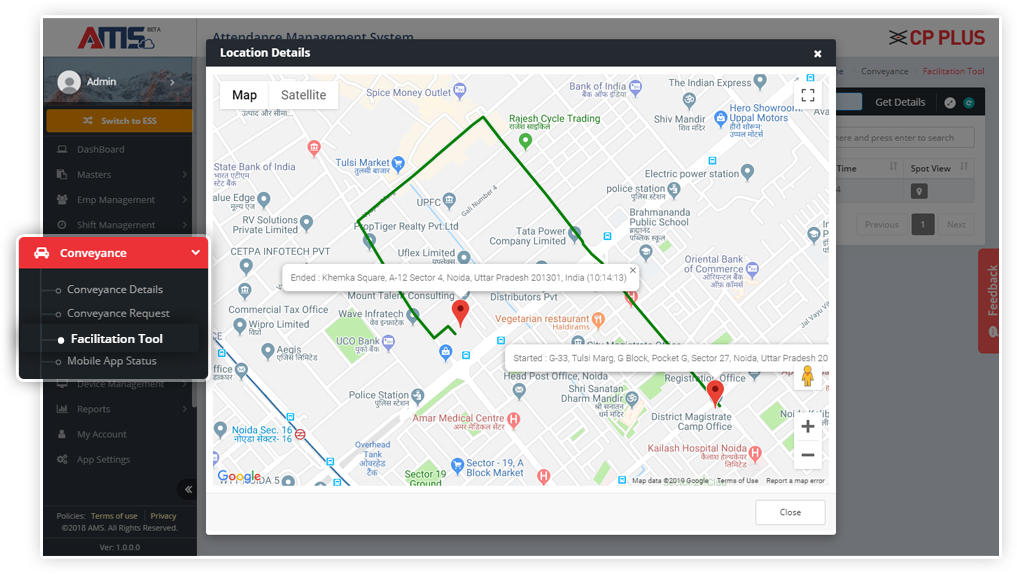 Other Heading
Enables employers to analyze business processes
Creates a more engaged team
Saves money on employee retention
Provides data transparency
Protects against data loss
Discover Unrealized Revenue from a Fully Engaged Team
Cut Expenses
Improve Customer Service
Get Better at Micromanaging
Features
You can be in touch with your employees at any time
Real-time monitoring
Your staff become more responsible at work, as they know they are monitored
You can collaborate interactively
Company administration can be streamlined and improved immeasurably by the use of attendance tracking software and SMS. Almost everyone has a mobile phone, and even the most basic mobile phones have the capacity to both send and receive SMS text messages.
Traditional ways of sending SMS is very time-consuming. It takes so many hours in collecting data and informing the employee of the attendance or want to share othere information. We have a new solution for this in which we automate the attendance. also company can set SMS templates in the AMS and define a auto task for SMS alerts for absent/present to employee.send automatic email or sms to employee if late comming etc.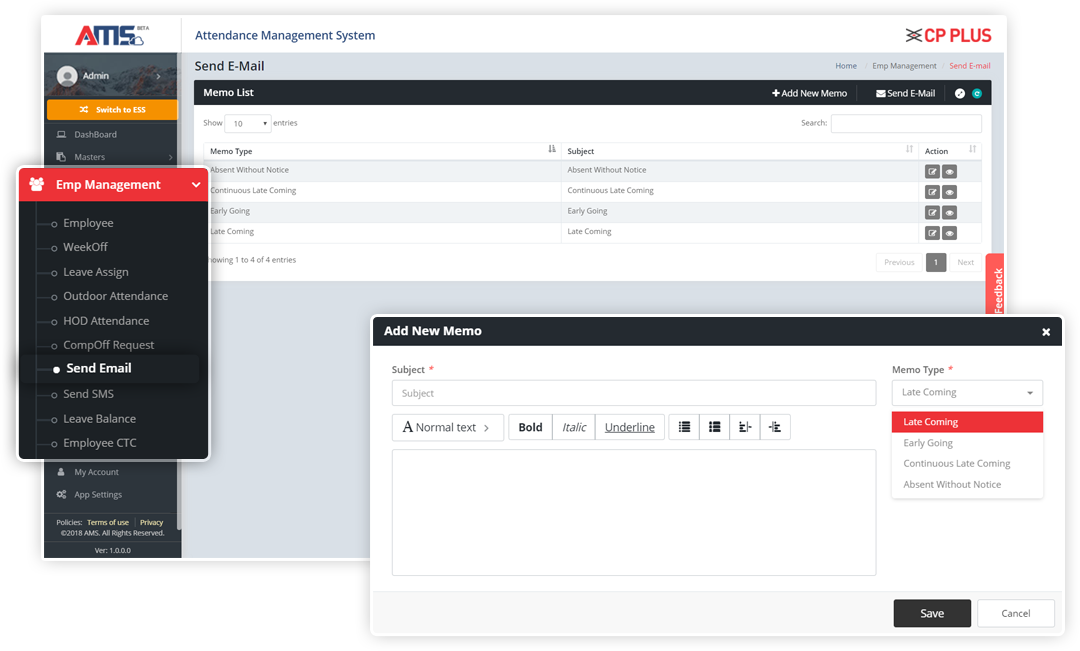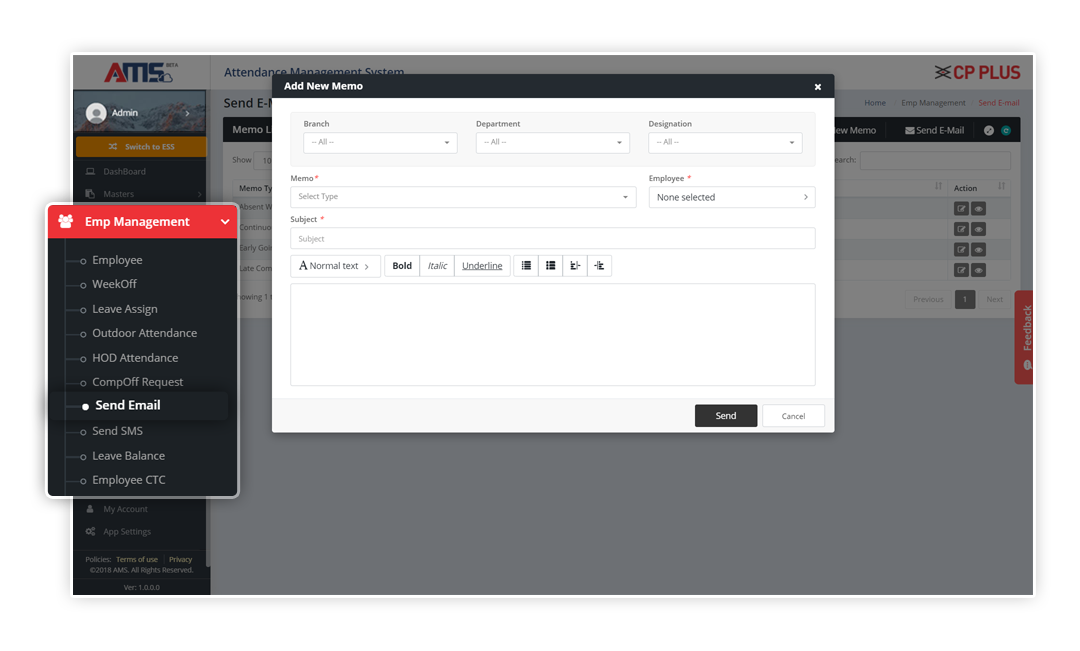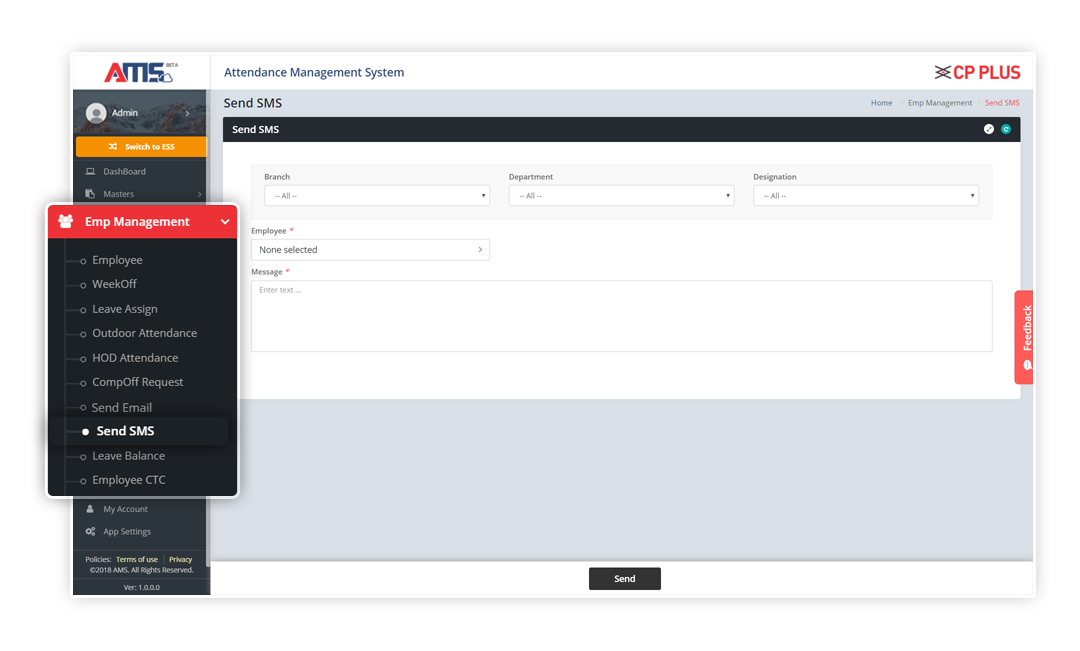 Features
Alerts for employees are currently available for InLate alert types, but in the future this will be expanded.
Improve employee punctuality
Notify to employee for any events
In order to program employee alerts, simply navigate to App Setting and enable "Send email to employee if comming late" and click into save.
Our dynamic dashboard shows you the vital signs you need to know about your business, to help you target the most meaningful areas, and limit business risk. Discover workforce insights, monitor Attendance, monitor attendace category wise and check whether you're ahead or behind with your task list.
There are two type of dashboard in AMS, one for Admin and another for employee to monitor their attendance, leave, holiday, Outdoor, Comp-off, conveyance etc.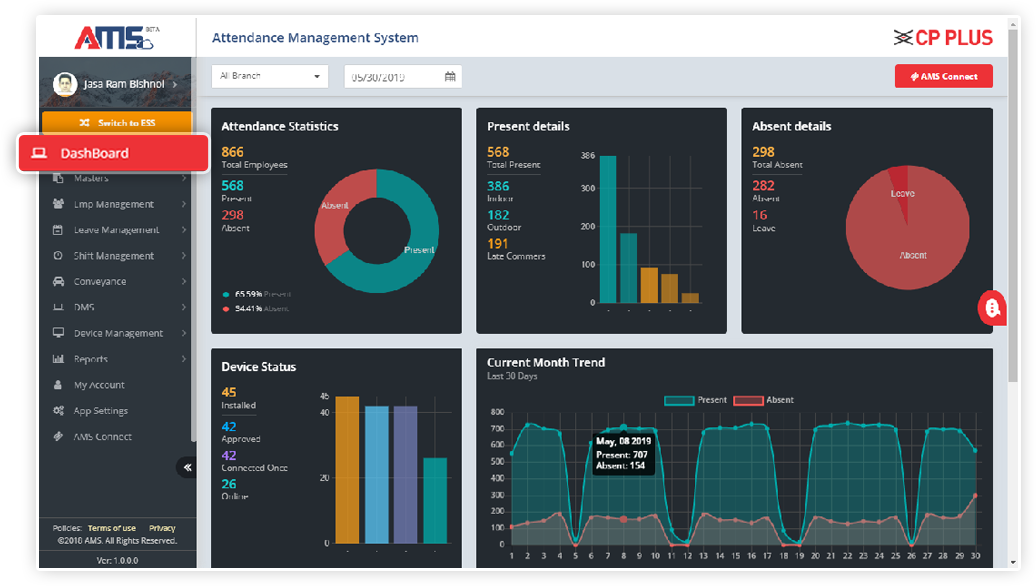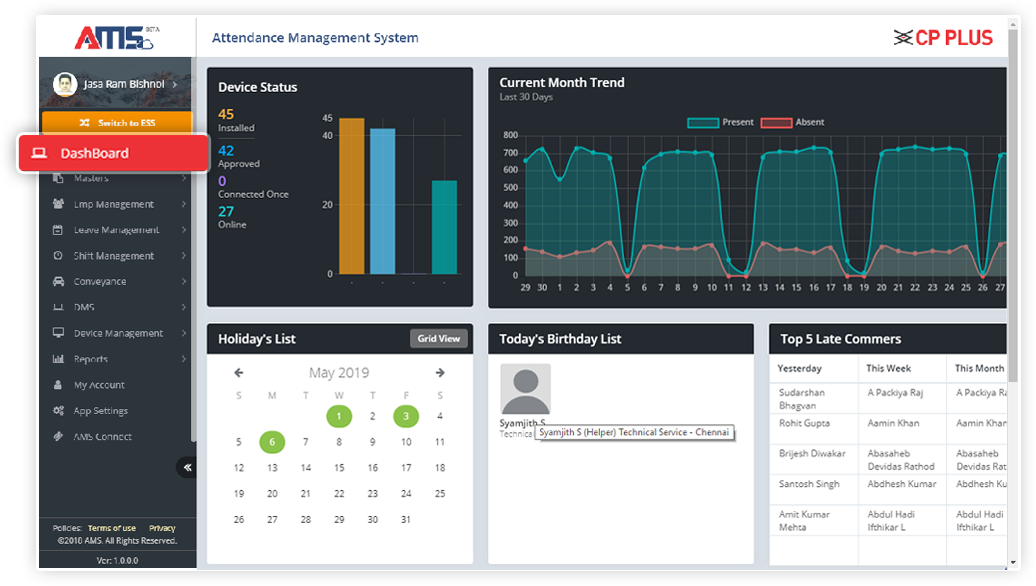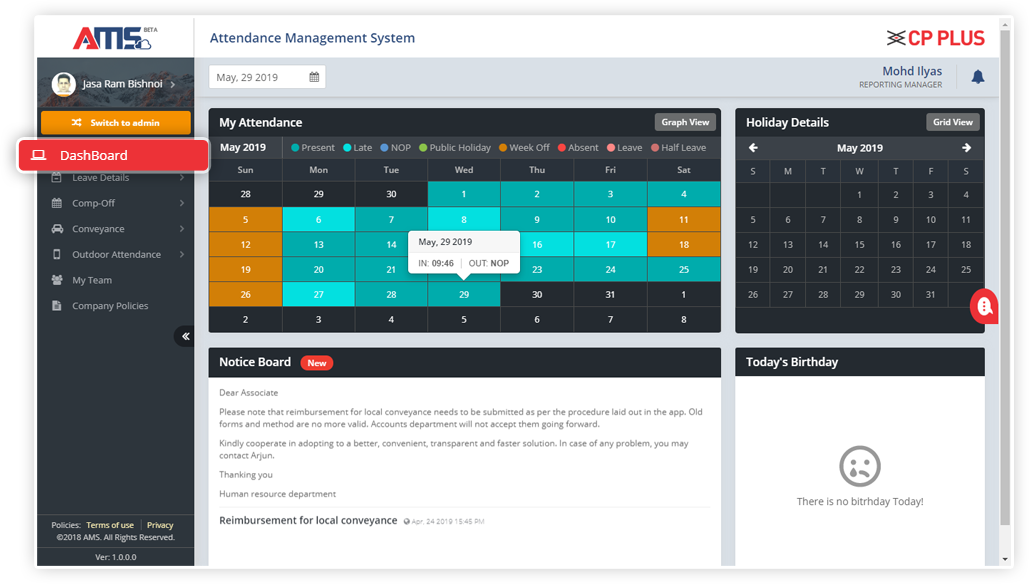 Features
Attendance Statistics.
Present and Absent details.
Current Month Trend
Current Month Attendance Trend
Holiday's List
Today's Birthday List
Top 5 latecomer (yesterday, Current week, and Current Month.)
MIS
An MIS report in AMS is a tools use to evaluate business processes and operations. MIS stands for management information system. Business managers at all levels of an organization, from assistant managers to executives, rely on reports generated from these systems to help them evaluate their business' daily activities or problems that arise, make decisions, and track progress. MIS system reporting is used by businesses of all sizes and in every industry.
AMS MIS systems automatically collect data from various areas within a attendance system. Systems are capable of producing daily reports that can be sent to key members throughout the organization. AMS MIS systems can also generate on-demand reports. On-demand MIS reports allow managers and other users of the system to generate an MIS report whenever they need it.
Features
More then 15+ daily attendance reports.
Monthly summary, detailed and basic report for various purpose.
Conveyance and travel reports for employee.
Conveyance and travel reports for account department.
Mobile detailed and summary attendance reports
Most users do not require such high levels of access in a application. Often users are unaware that they are logged on as an Admin or user, the user can unintentionally or intentionally edit tasks, change due dates or close a task. These changes may affect the whole management.
AMS providing user role managemnt functionality. As well as allowing a user access rights to certain areas of the system, you can also allow them access to certain Settings options. You can also give users privileges for their roles, which apply the roles to specific Task or other objects. You can view the existing users and their roles and privileges from the Administration section.
However, when it comes to business travel management it is not only about simple budget consolidations and deductions. It is rather about managing corporate conveyance expense is an optimum manner without having to compromise productivity and quality. Efficient business travel expense management module of AMS offers reduced expenses, in terms of travel expenses as well as expense for travel administration. Every organization has internal rules and regulations regarding business travel. AMS ensures that there is compliance in these corporate policies and rules.
AMS lets you assign different permissions to different people within your company. You can assign employees, managers and administrators using our preset permissions, or you can create your own groups to give people like Attendance Managers their own fine-tuned access rights.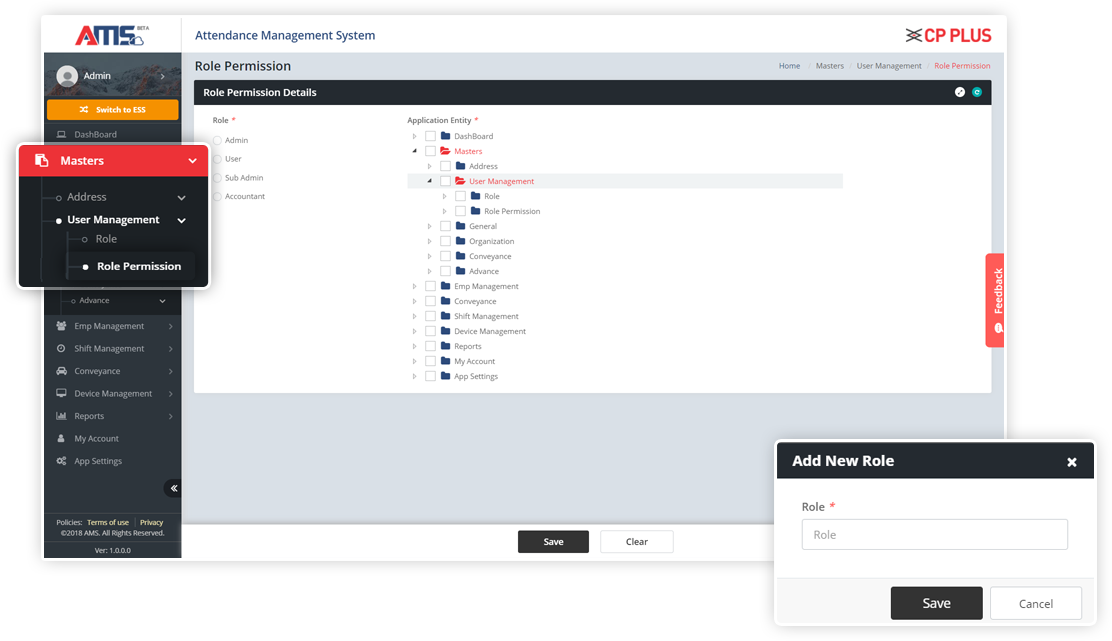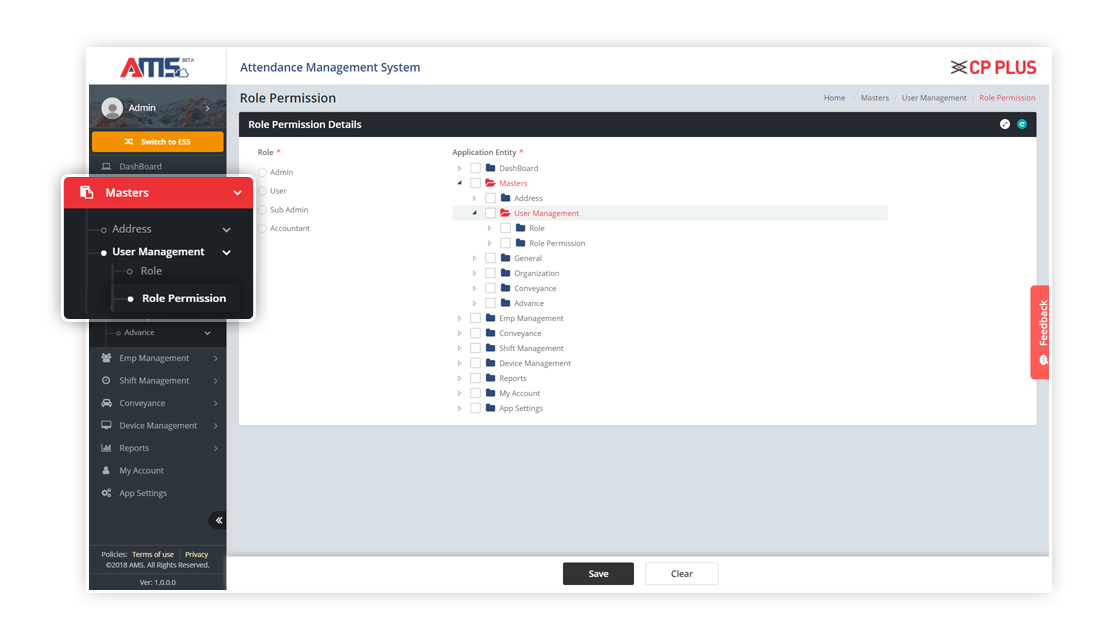 Features
Restrict Users to Specific Roles
User-Defined and Pre-Defined Roles
Defining a scope for the users
Company Policy
Management
There is manual process of policy sharing with each employee is time taking job. there is functionality in AMS to create policy and share with employee. Employee will find company Policy / documents under the 'Policies' tab on the left hand side in ESS. No need to call HR for every time for any updated policy.
AMS is a best in class policy & procedure management solution that handles the complexities of managing policies & procedures through the use of powerful, automated, and intuitive built-in tools. From creating, approving, and communicating policies to intelligent distribution, knowledge assessments, and reporting, AMS not only saves time and improves efficiency, but it also provides a defensible program that demonstrates corporate responsibility and reduce the risks of non-compliance.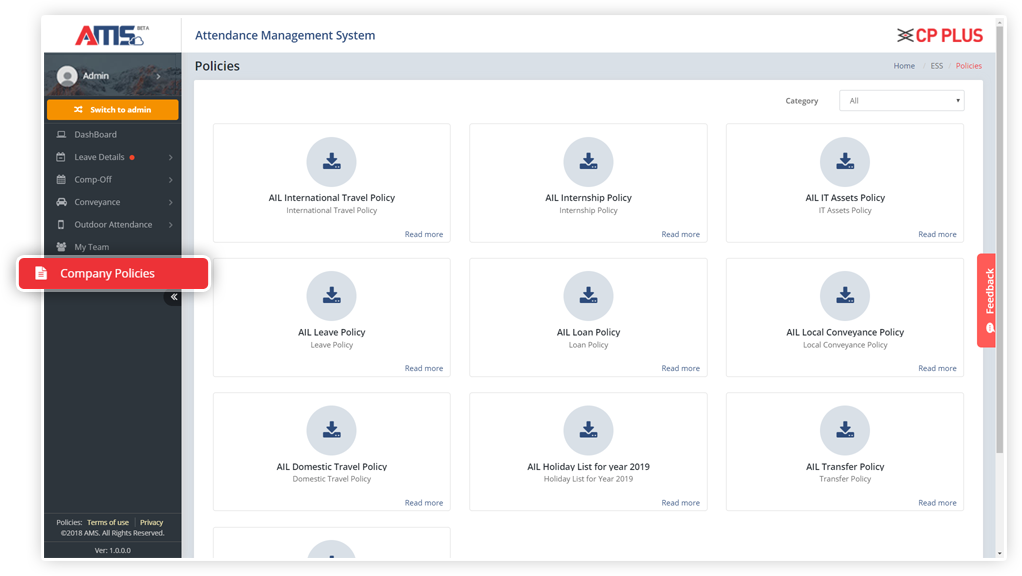 Features
Create or update policy.
Share or withdrowal policy.
Also share policy category wise with employee.
Attendance marking has moved from manual punching to biometric and attendance apps within a short span of time. AMS Cloud is a cloud based attendance tracking system that uses mobile app , biometric to mark employee attendance. Employees from any place can mark their attendance through the app if HR given the permission to employee for mark attendance through mobile app .They can also apply for leave and view calendar in the app. It also makes live tracking possible so that you can know the real time location of each employee in the premise.
AMS Cloud is positioned more as an HRMS rather than an attendance app. It gives managers detailed information on aspects such as employee check-in time, leave balance, late arrival, overtime, etc. Location tracking is via the app and it is possible for managers to view location log and distance travelled by employees. Attendance app is supported by multiple technologies such as biometrics, geofencing, etc. Real time tracking and live location are other features that make this app valuable. AMS Cloud captures photo of employees at the time of clock in. This prevents buddy login and promotes honesty in remote office locations.
Features
Available in both Android and IOS.
Live tracking.
Attendance from anywhere.
Attendace location and location photo.
The My Team tab will show you all of team of respective reporting person in the system as per the reporting lines.
Reporting person can monitor their team with effective manner. Reporting person can view Attendance, Outdoor, Leave, Comp-off, Conveyance details. also reporting person can live track their team.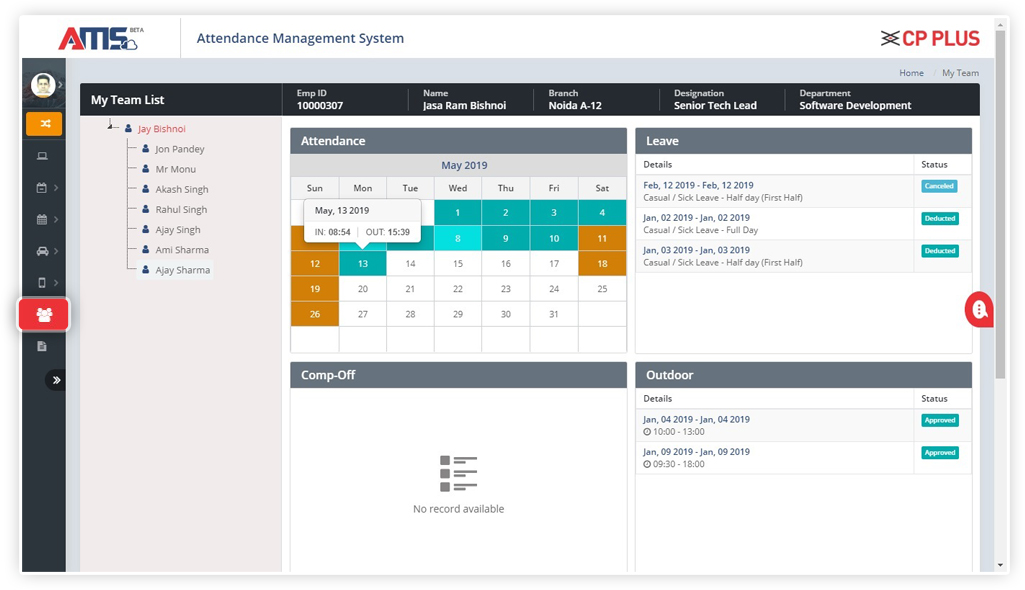 Features
Team monitoring
Live tracking
Reporting person can view team attendance.
AMS Connect is a service for better experience of user with AMS. if need any help user can raise a ticket. our experienced support team will connect with you quickly.
Benefits
Raise a ticket online
user can view status and reply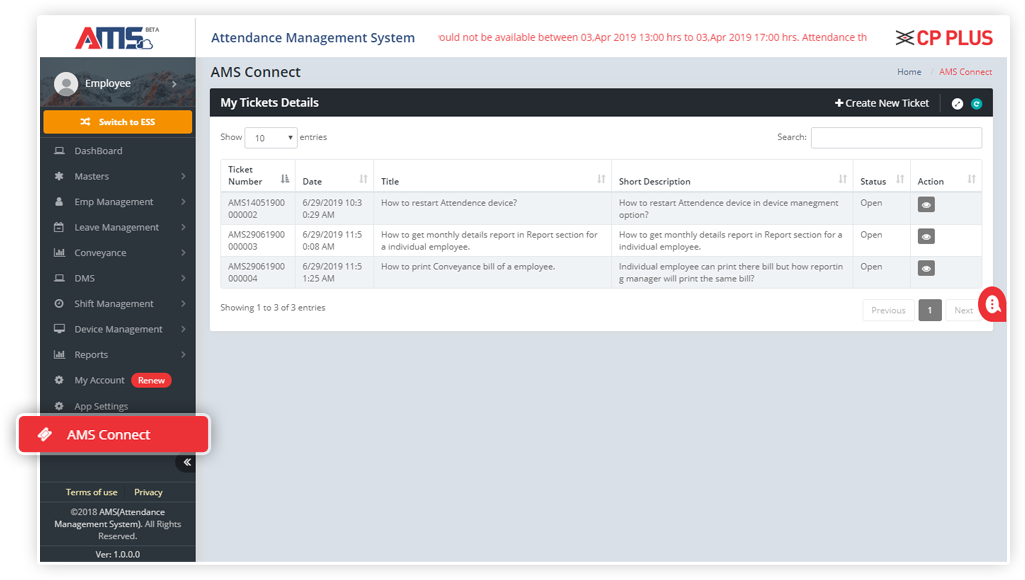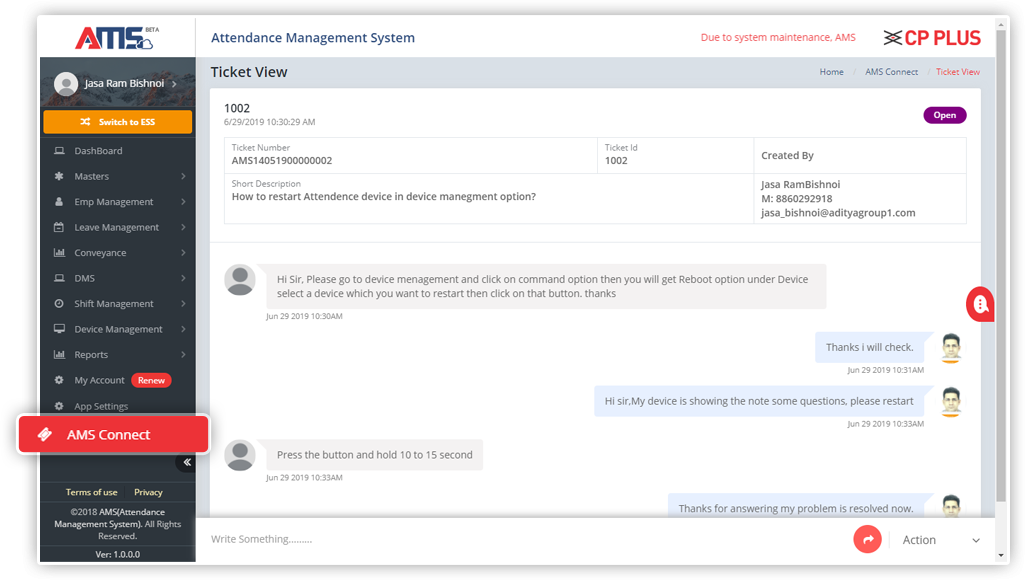 Other Details
The admin has the sole authority to monitor and manage all the information
With automated recording and management, the cost of resource is saved
Robust data security
Flexible & Customizable
Features
Online application for both short and long leaves
Customization of leave types as per your company policy
Leave management system tracker- Configure holidays on the basis of branch
Manage and track all the leave information of your organization
Leave restrictions and different color codes of different leave types
The department leave calendar- Track the employee leaves dept. wise. The appointments, meetings or events may be easily scheduled according to the presence of the employees.
Document Managment Service