It's indispensable for an organization to maintain an accurate staff directory. With AMS corporate directory, it's easy to manage and synchronize employee details. It features built-in single sign-on functionality and Active Directory hooks. AMS corporate directory enables effective administration of employee details. Also, there is a search box placed at the top levels of the portal to find employee directory information like phone numbers etc.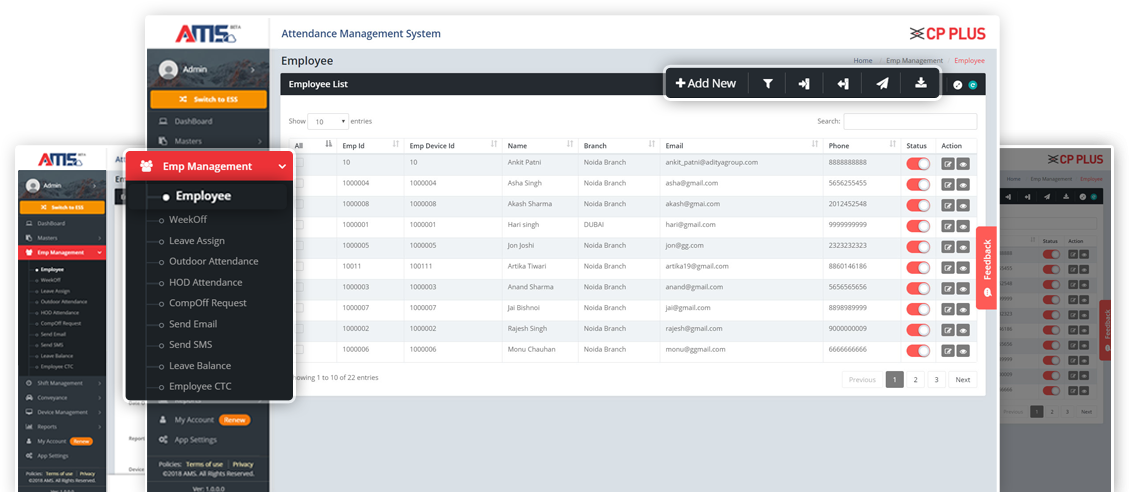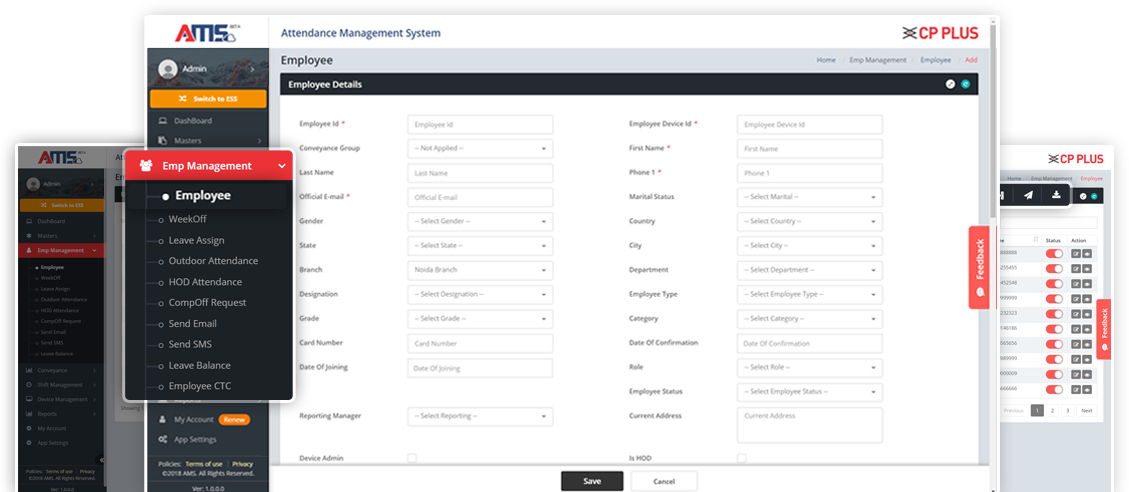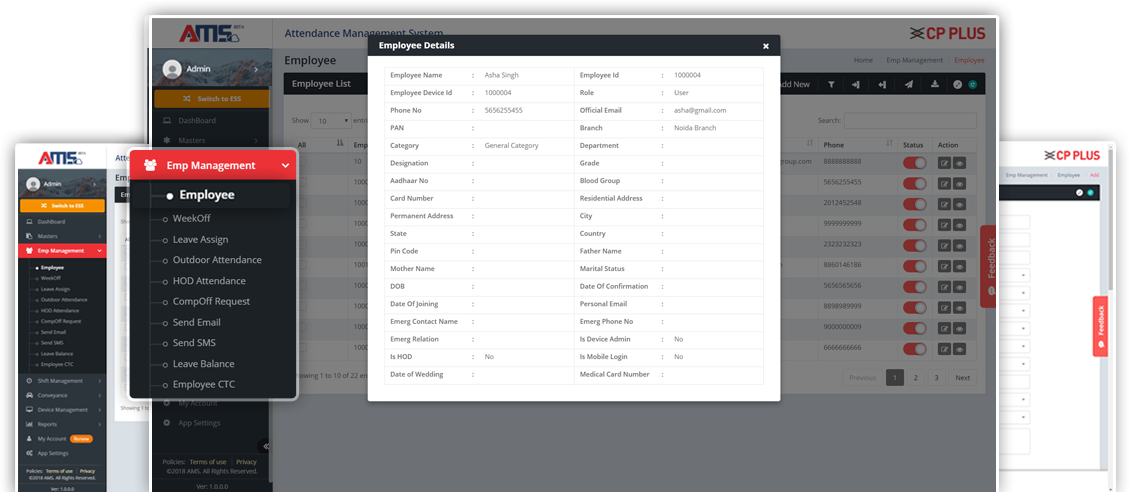 Other Details
Accessible from any page, the Search Box is easy to use, and it provides quick results
The Admin can search as well as edit employees' details
A broad range of filter criteria to give personalized directory results
AMS facilitates the entire leave process, including viewing leave applications, approval from the manager, management and reporting. It allows you to manage the entire leave management process with customized software packages as per your specific requirements. AMS Leave Management allows you to manage your resources and helps improve the overall productivity of your company in an effective way. With complete reporting, the AMS provides rich and meaningful information.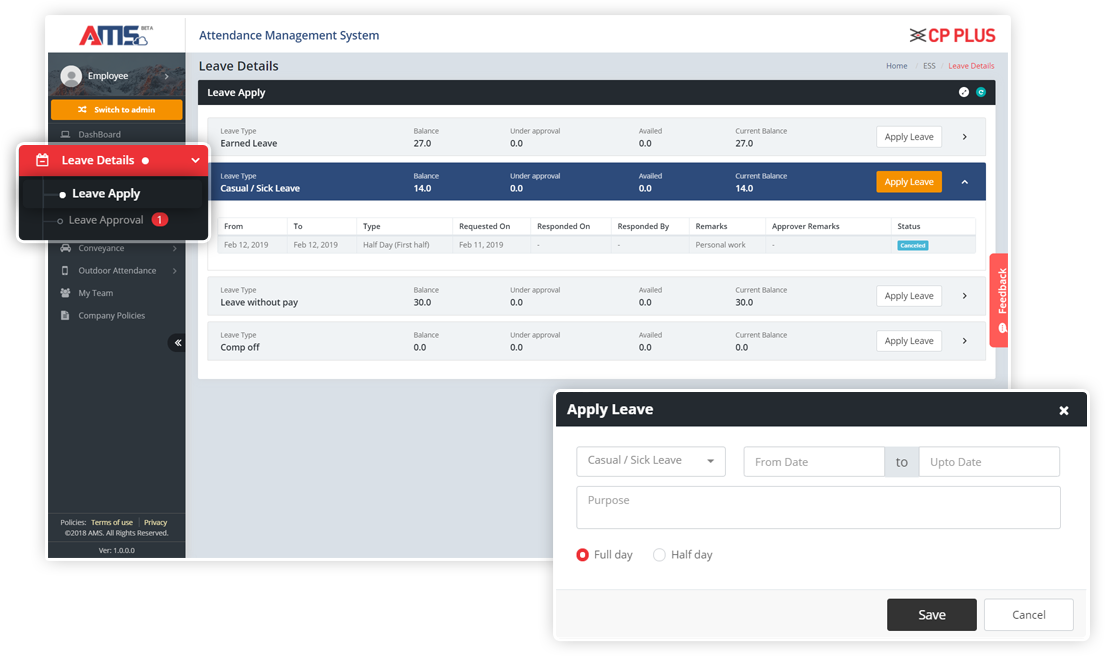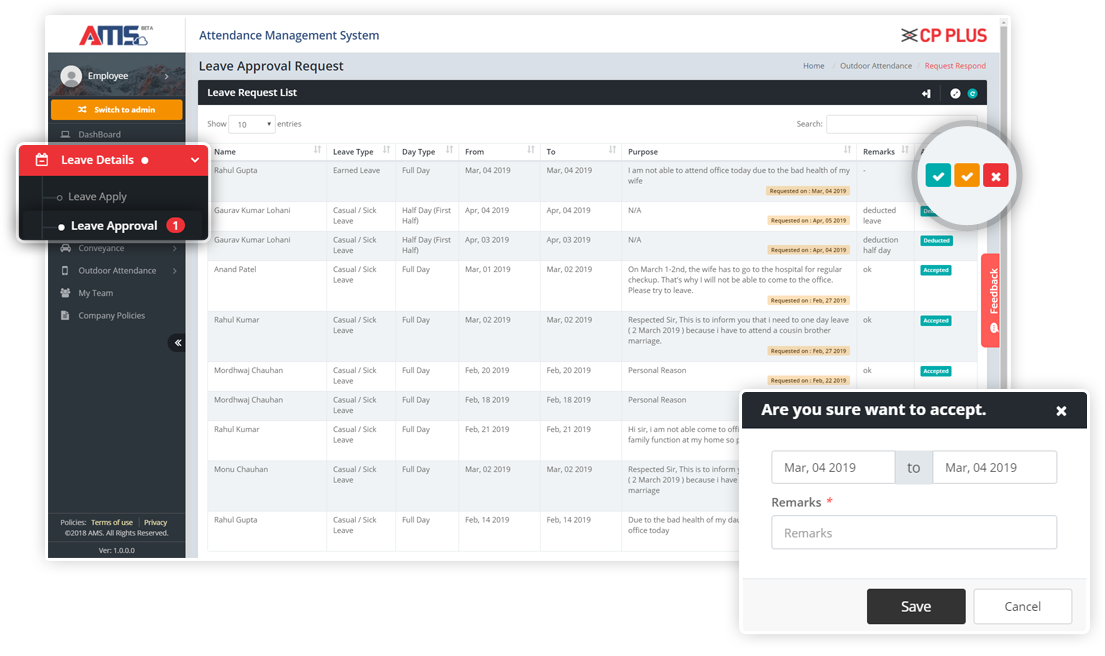 Other Details
The admin has sole authority to monitor & manage the data
High data security
Flexible and customizable
Simple, quick leave requests
Cost-effective with automated recording & management
Features
Efficiently manage & track all the leave information
Online application for leaves
Customization of leave type as per company policy
Tracker for the leave management system to configure holidays based on branch
Leave restrictions and different colour codes for various leave types
Department leave calendar to track employee leaves department wise
The AMS conveyance management enables convenient and prompt management of expenses. This user-friendly module ensures secure storing & retrieving of transaction data. It is helpful in business management with accurate management of corporate conveyance. AMS conveyance management facilitates efficient administration and reduced travel expenses. It is designed to meet the procedures and policies of every organization without compromising on quality and productivity.
Benefits
Time saving as most of the procedures become automated
User-friendly design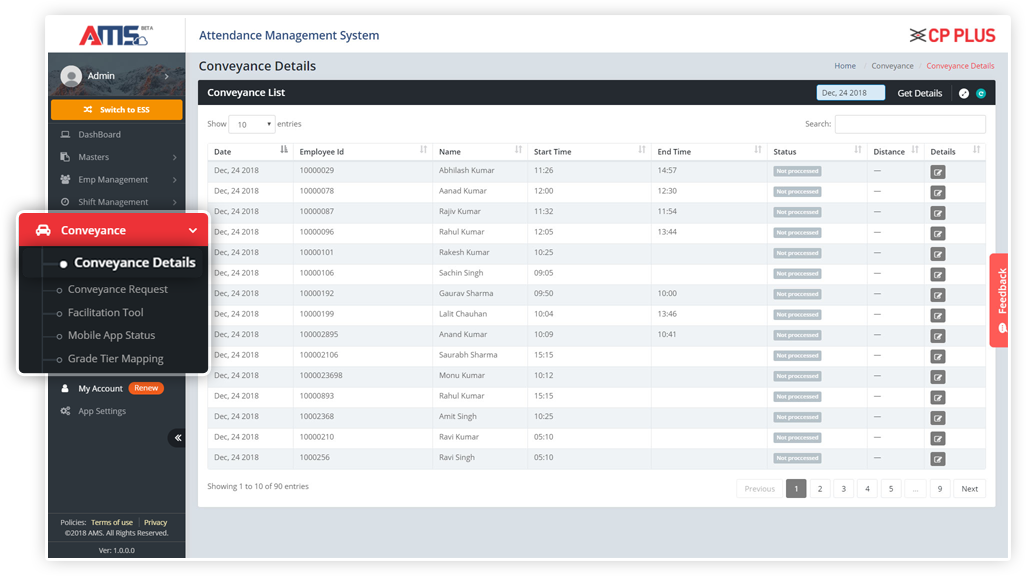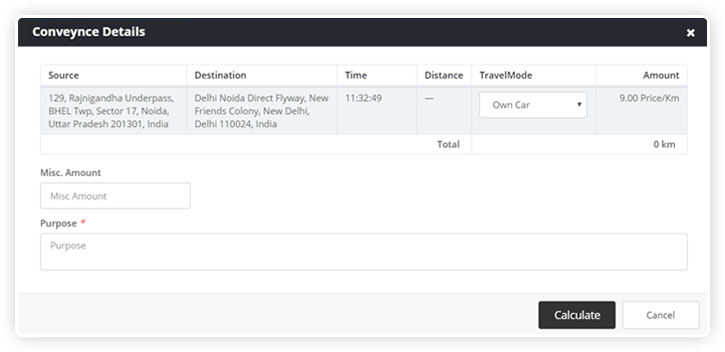 Other Details
Say goodbye to paper forms and complicated spreadsheets.
Each and every rule and policy can be implemented
Enables hassle free conveyance
Helps in improved cost management with an useful travel spend analysis
Improves employee satisfaction because the processes are more systematic and organized
It's totally paperless
Maximizes the speed for travel claim approval process as no conventional methods that include manual paper methods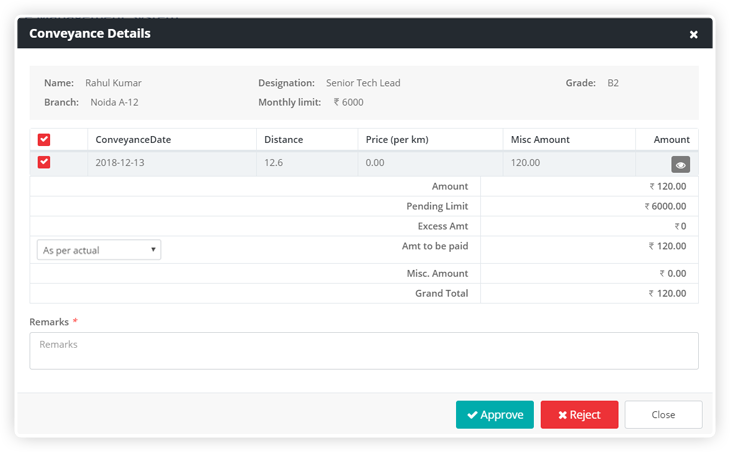 Features
Systematic & organized processes
Hassle-free conveyance management
Quick travel claims approval process
Totally paperless, no difficult spreadsheets
Better cost-management with useful analysis
Easy implementation of organizational policies
Maximizes the speed for travel claim approval process
Employee Self Service

(ESS)
The AMS Employee Self Service (ESS) allows users to view & access their information from a single platform. It enables them to book leaves, get approvals, mark attendance and manage conveyance. The ESS is user-friendly and it enables streamlined and efficient business processes. There is easy managing & maintaining of data. Further, the AMS ESS allows employees to apply for reimbursements. This module is aimed to empower employees and managers so that they perform their jobs responsibly. The AMS ESS offers efficient means of collecting employee detail changes. It's ideal for organizations spread over several physical locations.
Benefits
'Go Green' and efficient with paperless information management and increased accuracy of performance data.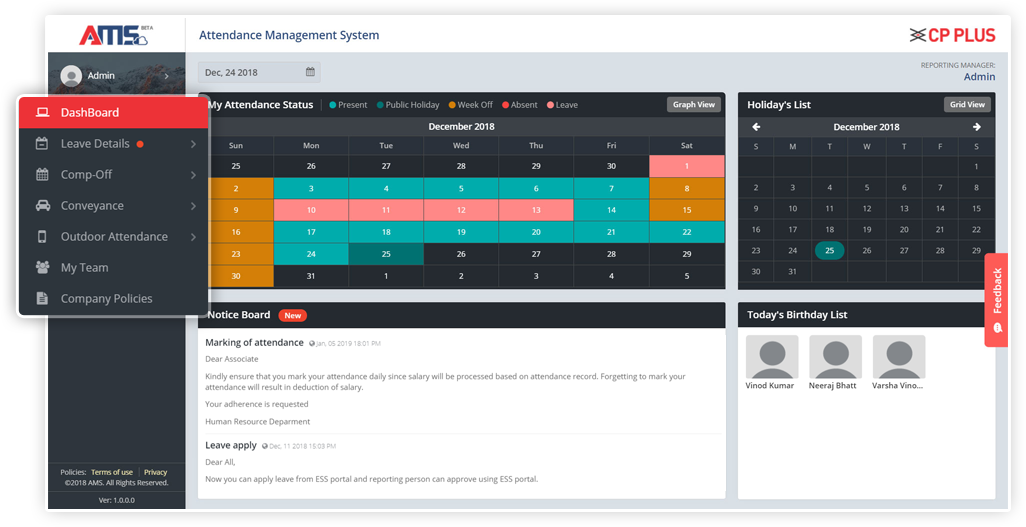 Other Details
An efficient means for collecting day-to-day employee information, especially in organizations having operations spread across multiple locations.
Features
Efficient means for collecting everyday information of employees
Leave apply & approve the system
Attendance card integration along with shift management
Conveyance claim, apply & status
Outdoor apply & status
Synchronization of HR data with excel sheet (coming soon with SAP as well)
The outdoor attendance system is important for staff management. AMS Cloud offers effective tools in outdoor employee application. With field service attendance software, employees job time is tracked which can be used to calculate payments. AMS Cloud software has a feature for recording location of the employee. Hence employees must attend their location to mark the attendance by using the application for fieldworker.
Employee performance can be measured using the AMS Cloud outdoor employee application, which is crucial for outdoor projects. The AMS Cloud outdoor attendance system enables the management to schedule tasks to workers. Ghost workers are eliminated as the system uses fingerprints. The fieldworker application calculates their working time in a daily, weekly, or monthly basis.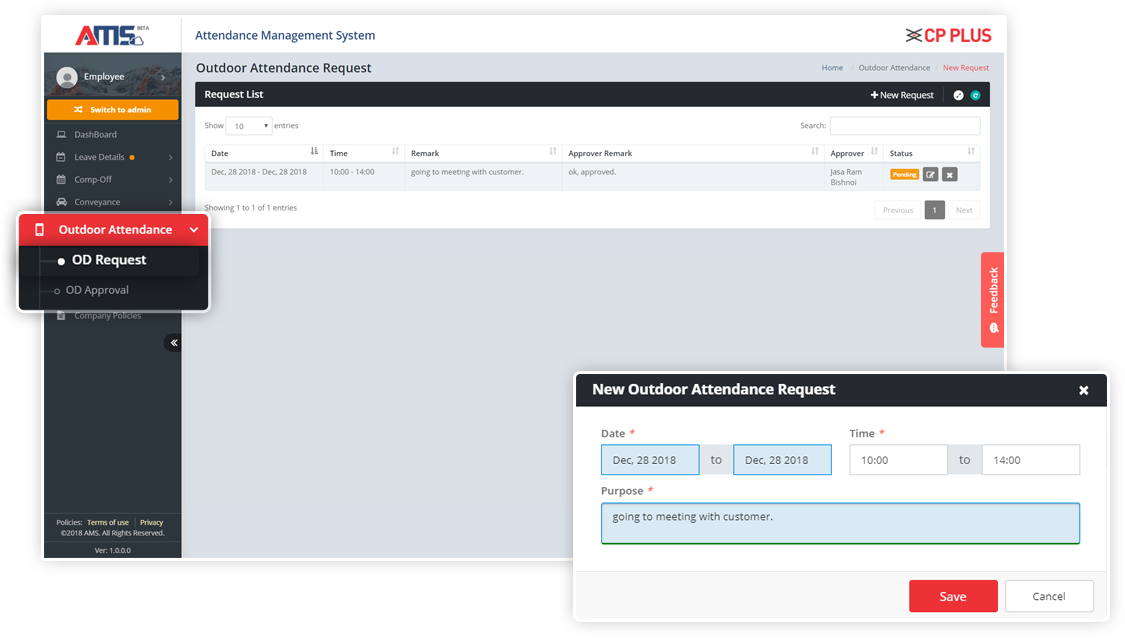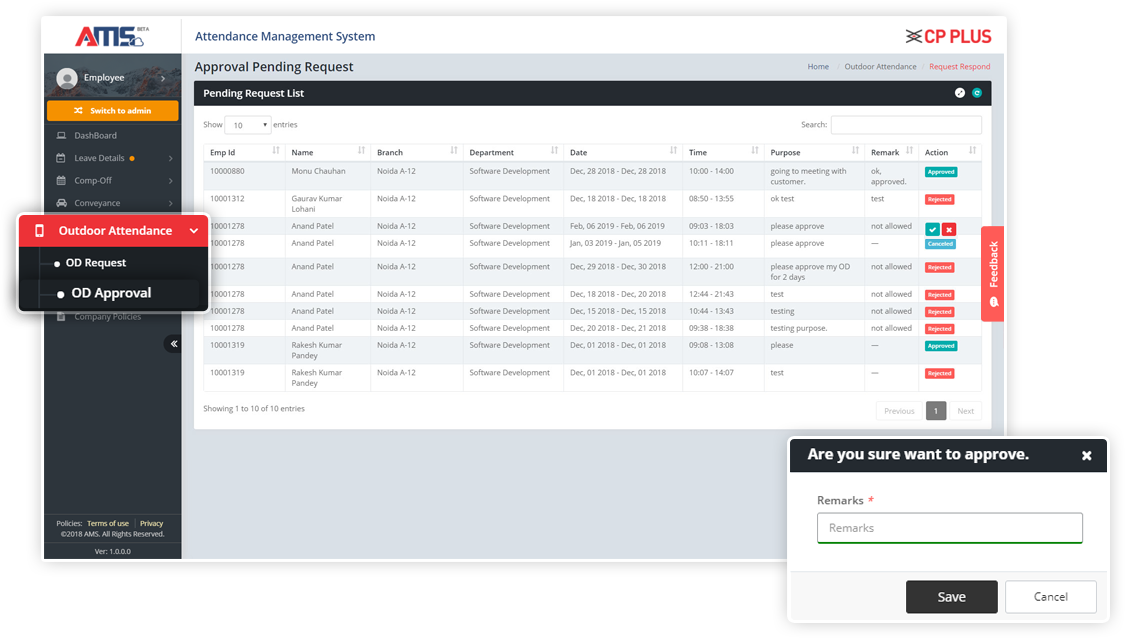 Features
Outdoor employee application help eliminate time theft by employees
Best field service attendance software, reducing the cost of operation
AMS works online with live updates
Efficiency in employee performance
Reduced time to complete the task
Improved staff communication and increased productivity
Application for fieldworker ideal for performance evaluation
You can set up holiday settings and it can be specified per location. When you create/upload new employees, the system will take their location as well as apply these settings to their record.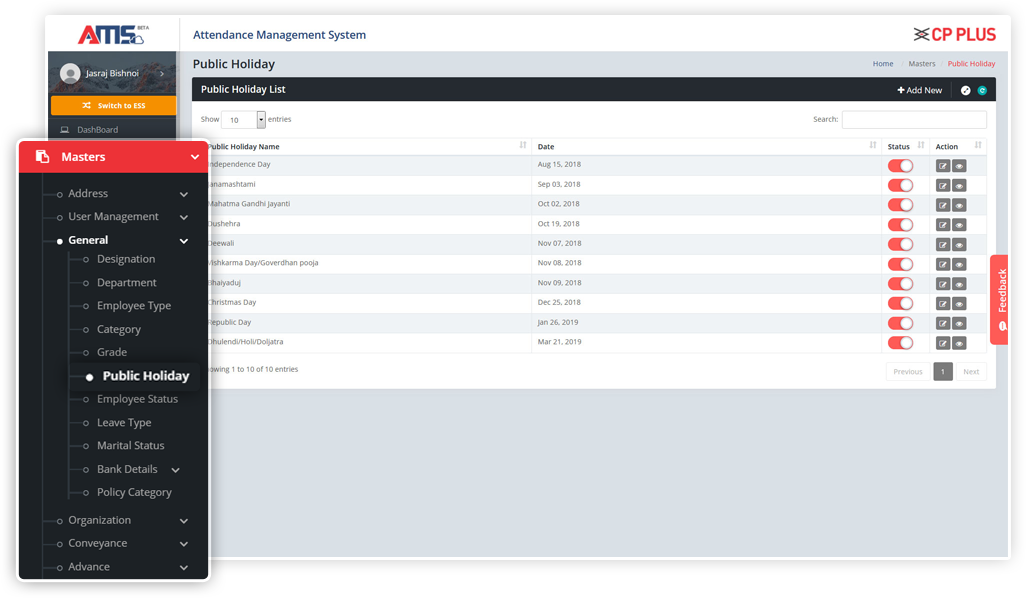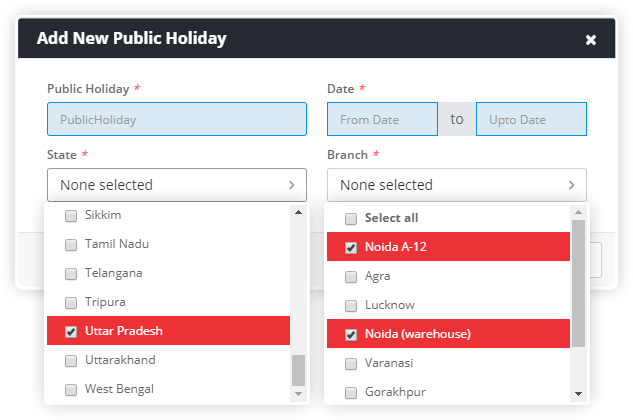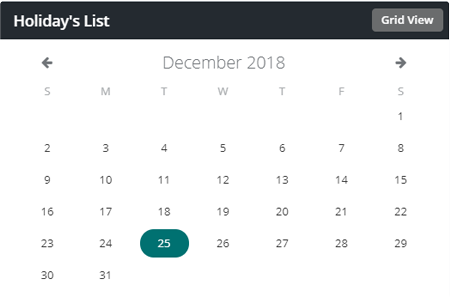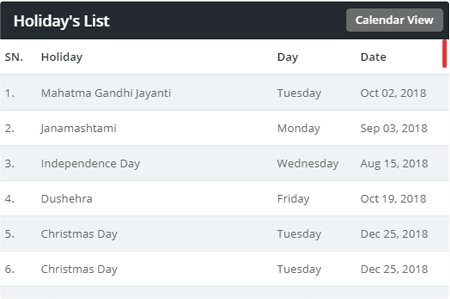 Features
Customisable public holiday management
Attractive calendar view for employees in ESS
Configuration of the holiday branch wise, or state wise
Employee monitoring is truly effective for human resources departments, managers, and business owners. They use it to track the productivity and performance of employees and as a way of security. Collected data can be analysed to find patterns, trends and correlations helpful in understanding and improving the business process.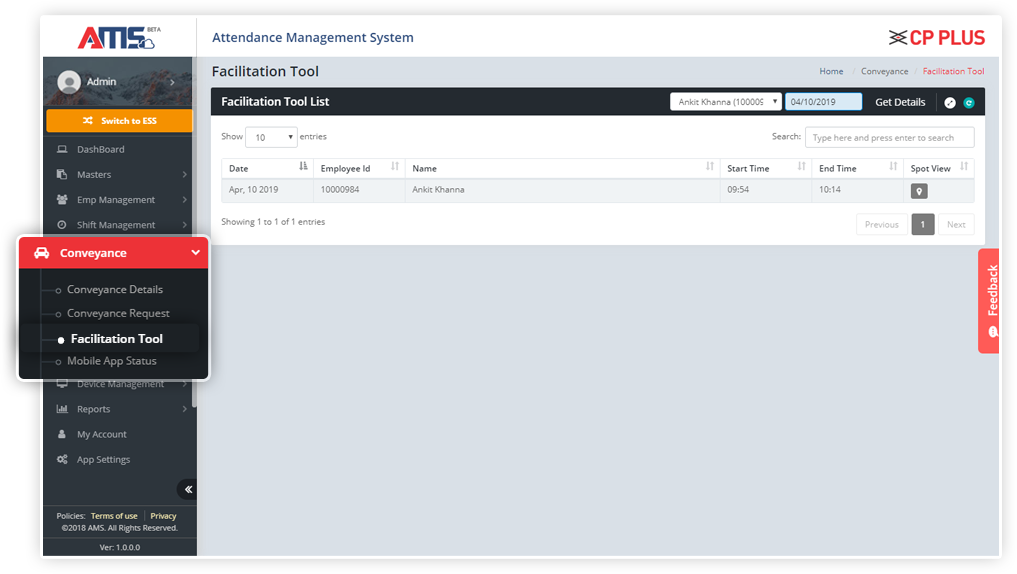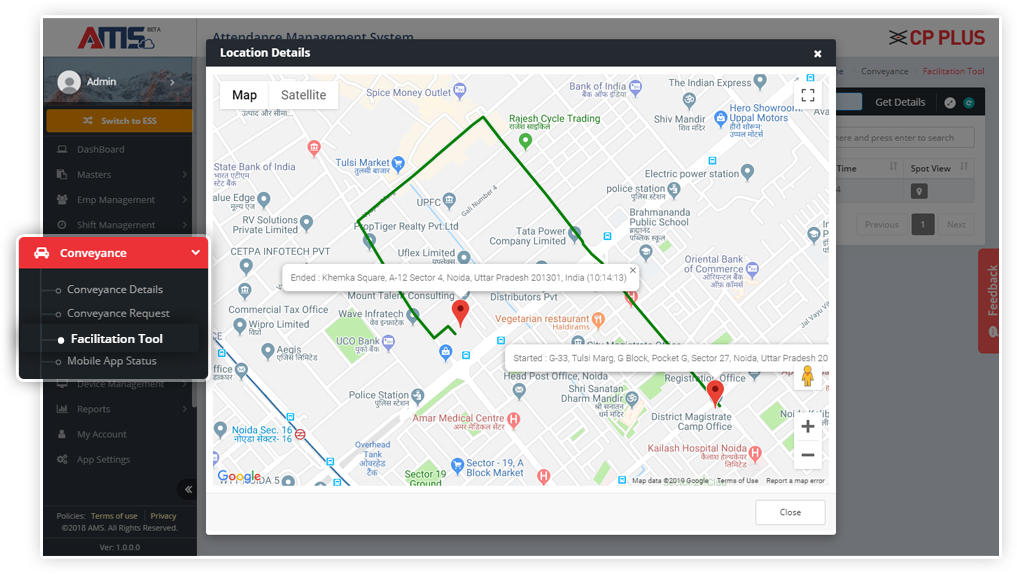 Other Heading
Enables employers to analyze business processes
Creates a more engaged team
Saves money on employee retention
Provides data transparency
Protects against data loss
Discover Unrealized Revenue from a Fully Engaged Team
Cut Expenses
Improve Customer Service
Get Better at Micromanaging
Features
Allows companies to analyse business processes
Provides data transparency and protects data loss
Real-time monitoring and cut expenses
Better micromanaging and improved customer service
Get in touch with your employees at any time
You can collaborate in an interactive way
Helps create a more engaged team and better employee retention
Attendance tracking software and SMS are effective for a streamlined and better company administration. Conventional means of sending SMS are time-consuming. With AMS one can automate the attendance and can set SMS templates as well as define an auto task for SMS alerts to the employee. Also, send an automatic email to the employee if coming late.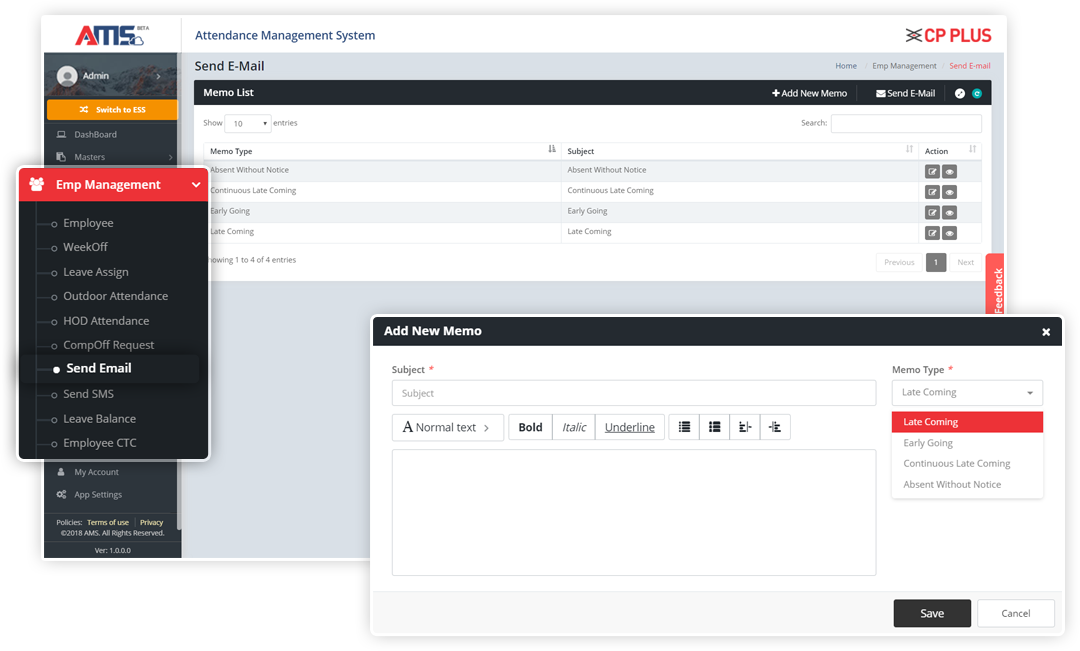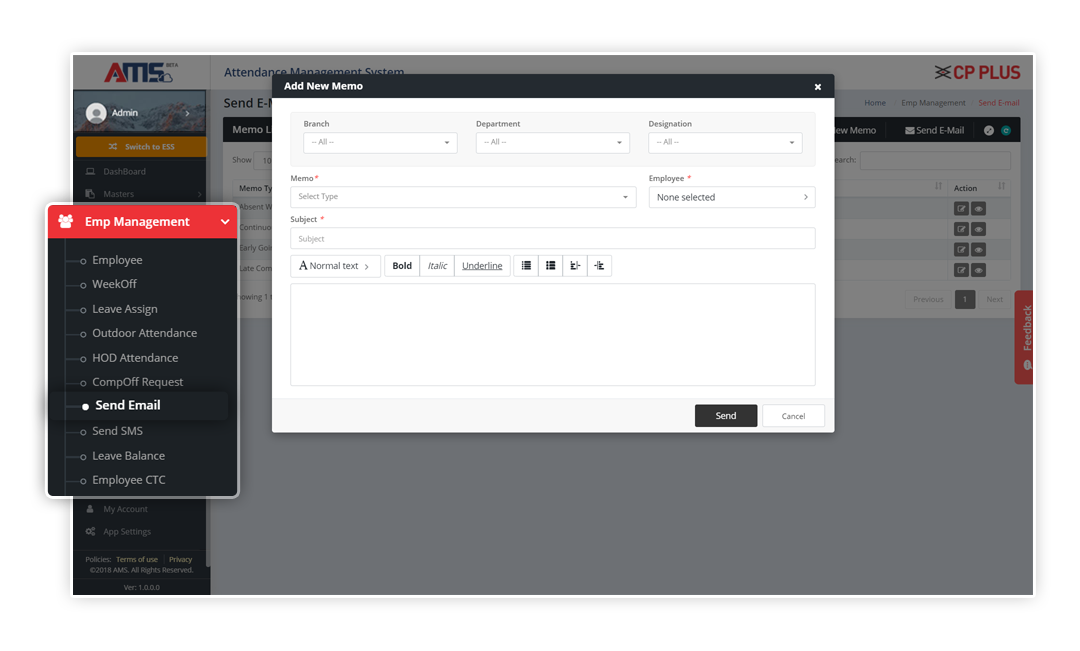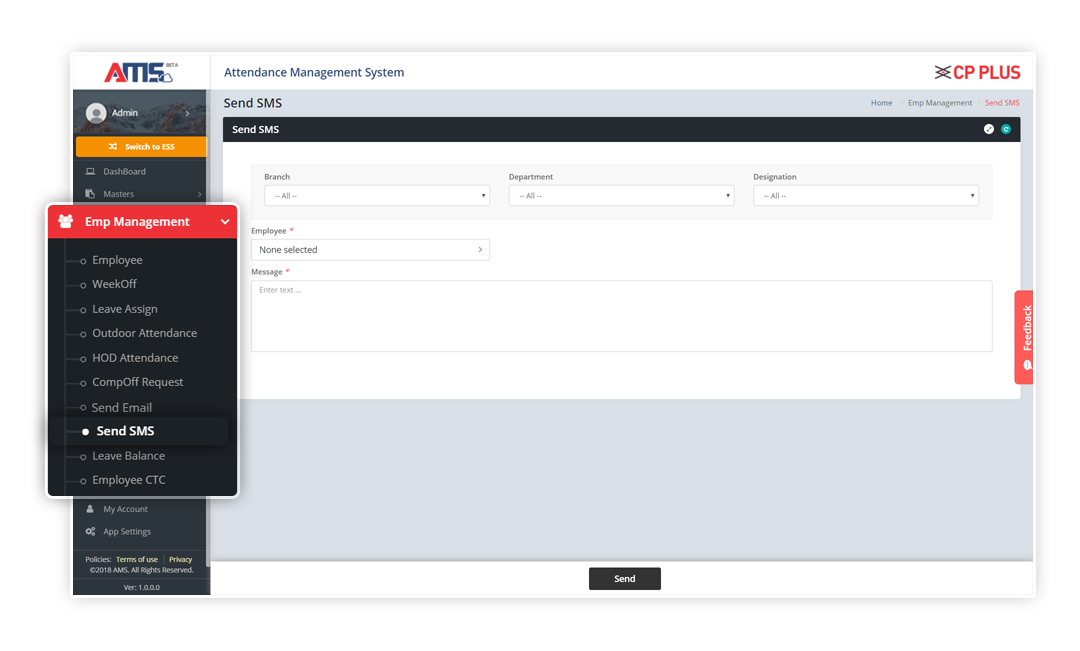 Features
Currently, alerts for employees are available for InLate types. This will be expanded in the future.
Notify employees for any event to improve employee punctuality.
Simply navigate to App Setting to program employee alerts.
AMS dynamic dashboard shows important signs about your business. It helps you target the most significant areas and limit business risks. The dashboard enables you to discover workforce insights, monitor attendance category wise, and manage other related tasks. AMS offers two types of the dashboard: one for Admin and another for the employee to accurately monitor attendance, leave, outdoor, holiday, comp-off and conveyance etc.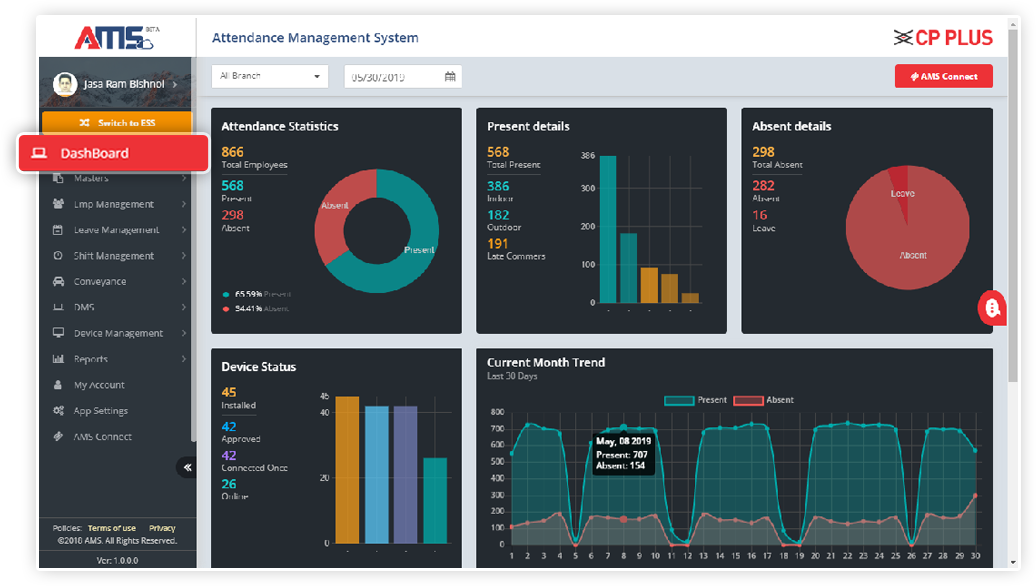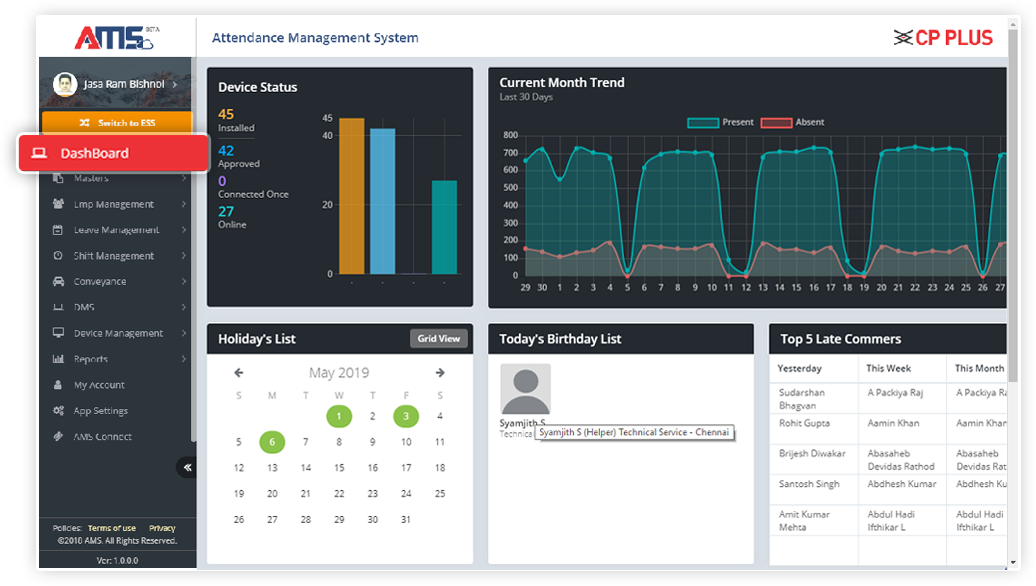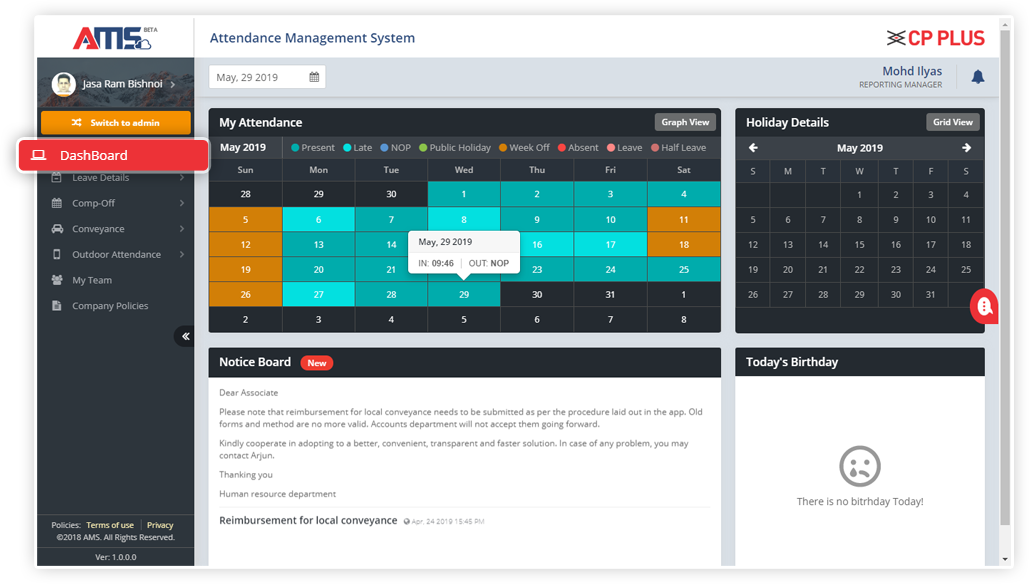 Features
Attendance statistics
Present and absent details
List of holidays
Today's birthday list
Current month attendance trend
Top 5 latecomer (yesterday, current week, and current month)
MIS
MIS (management information system) report in AMS is a tool, which is used to evaluate business processes and operations. The reports produced from these systems help business managers to evaluate their daily activities, track progress, and make decisions. MIS system reporting is ideal for businesses of all sizes and can be used in every industry. AMS MIS automatically collects data from different areas within an attendance system. It produces daily reports and can also generate on-demand reports.
Features
More than 15 daily attendance reports
Employee conveyance and travel reports
Monthly summary, basic and detailed reports for several purposes
In an application, high levels of access are not required by most users. AMS provides the functionality of user role management, allowing a user to access particular areas of the system. Also, you can give users rights for their roles. You can see existing users with their privileges and roles from the Administration section. AMS ensures compliance in corporate rules and policies. With AMS, you can assign different permissions to different employees of your company.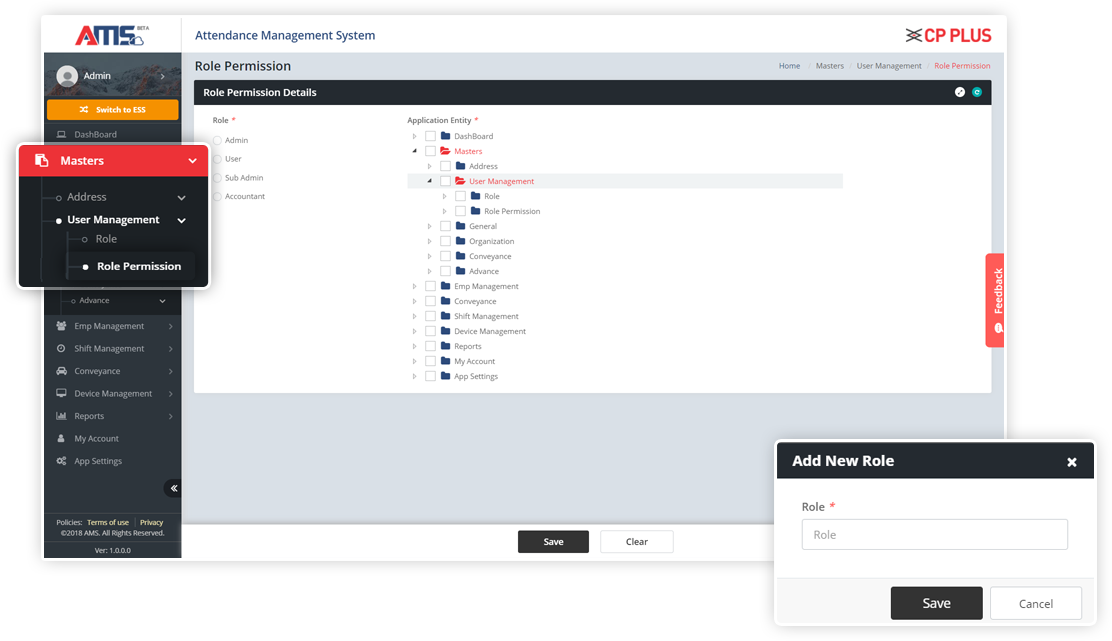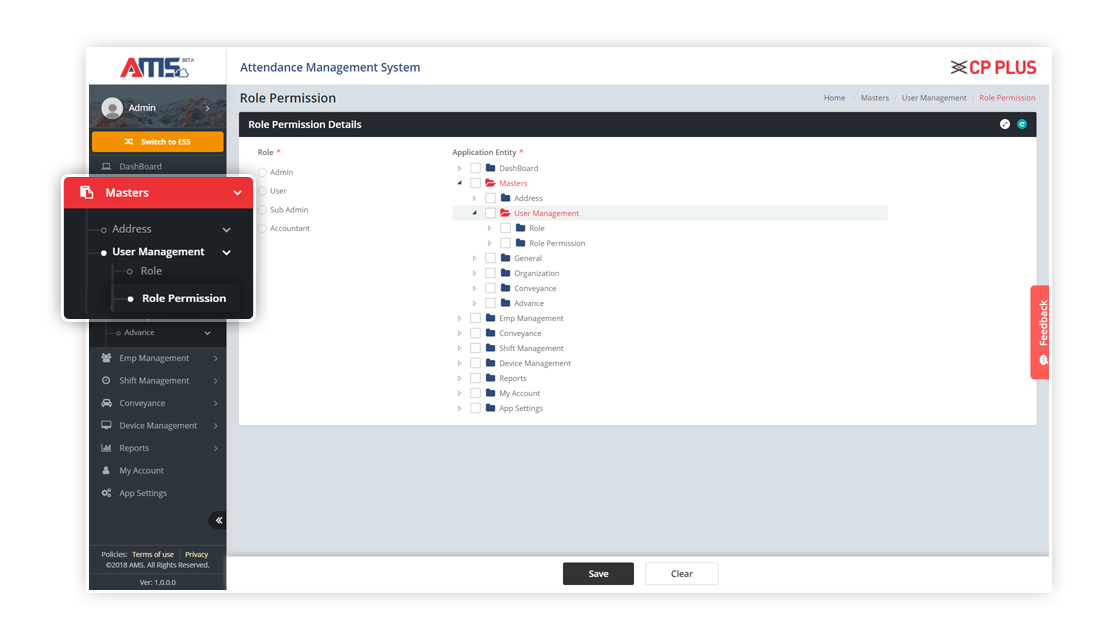 Features
Limit users to specific roles
Define the scope for the users
Pre-defined and user-defined roles
Company Policy
Management
The manual process of policy sharing with all employees is a time-consuming job. AMS has the functionality to make policy and share with employees. An employee can find company policy/document under 'Policies' tab in ESS. With powerful and automatic built-in tools, AMS offers a perfect solution for policy & procedure management.
AMS saves time as well as improves efficiency through creating, approving, and communicating policies along with intelligent distribution, reporting, and knowledge assessment. Moreover, it provides a secure program that demonstrates corporate responsibility and reduces non-compliance risks.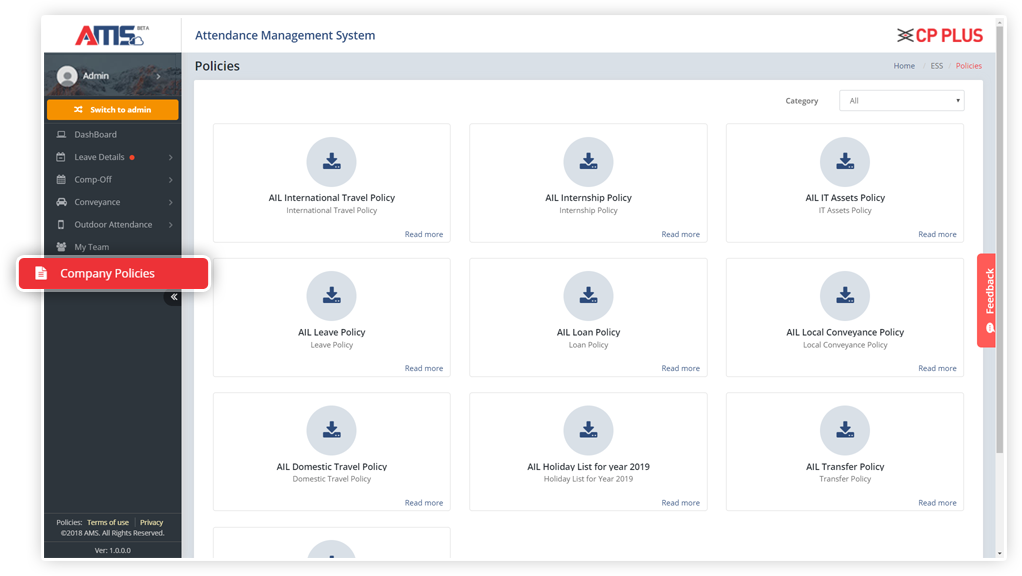 Features
Create or update policy
Share or withdrawal policy
Category wise share policy with employee
AMS is a cloud-based attendance management system that uses biometrics, mobile app to mark employee attendance. With the permission given by HR, employees can mark their attendance from any place through the mobile app. Also, they can view the calendar and apply for leave in the app. Through live tracking, you can see the actual time location of employees.
AMS Cloud is also an effective HRMS that gives managers detailed information such as employee check-in time, late arrival, overtime and leave balance. Location tracking via the app allows managers to view location log and related details.
Supported by various technologies like biometrics, geofencing, etc., attendance app has unique features of real-time tracking and live location. AMS Cloud is perfect for remote office locations.
Features
Available in both, Android and iOS
Live tracking and attendance location
Attendance from anywhere
Captures photo of employees during clock-in
Reporting person can effectively monitor team with My Team tab. He/she can view Attendance, Leave, Comp-off, Outdoor, and Conveyance details. And can also live track the team.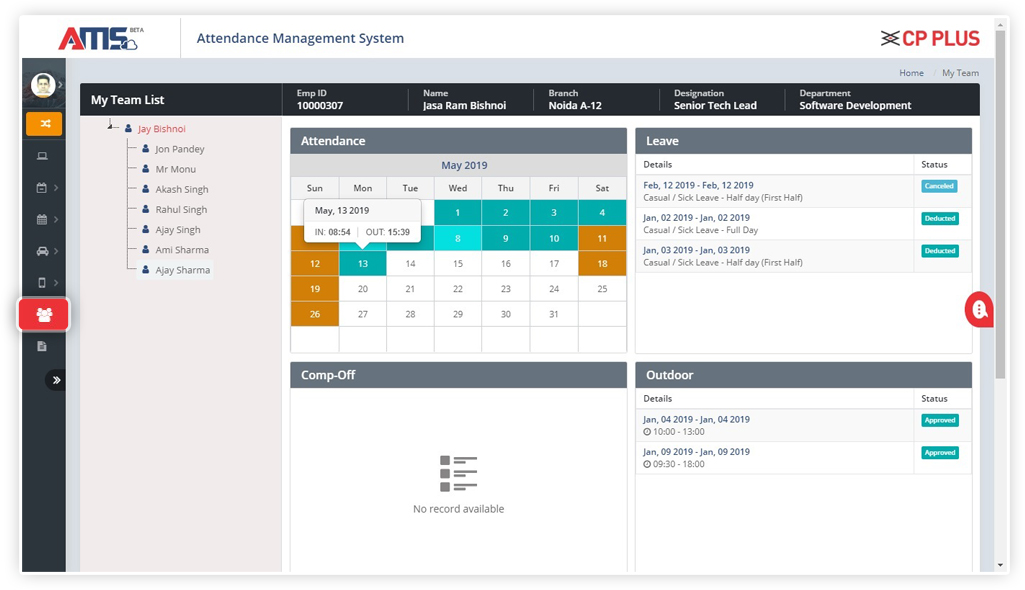 Features
Team monitoring
Live tracking
Reporting person can view team attendance.
This service is positioned for a better experience of users with AMS. User can raise a ticket for any help, and our professional support team connect with you soon. Only the admin has the authority to monitor & manage the information. AMS Connect offers robust data security and flexibility. Further, the cost of the resource is reduced with automated recording and management.
Benefits
Raise a ticket online
Intant issue resolve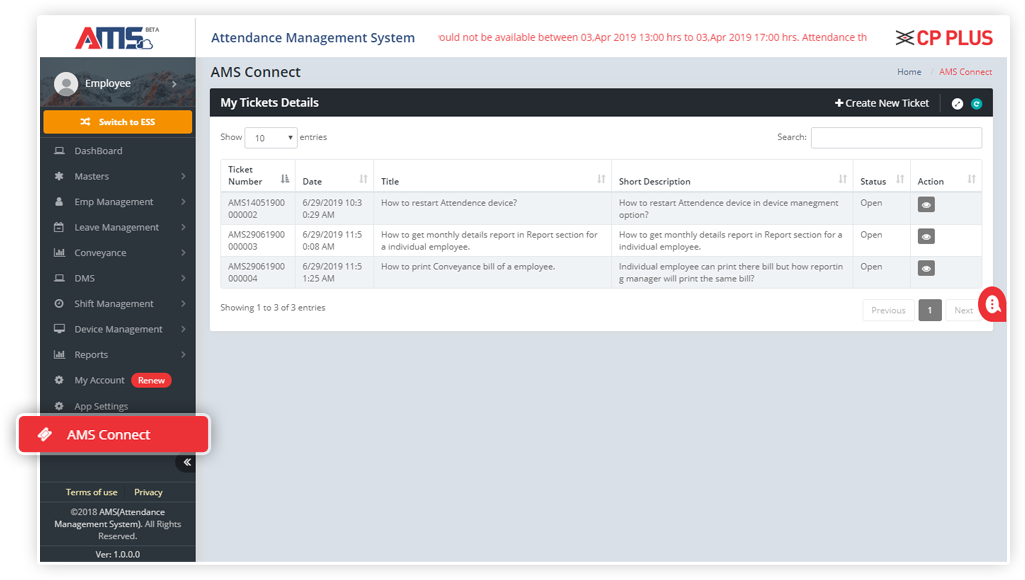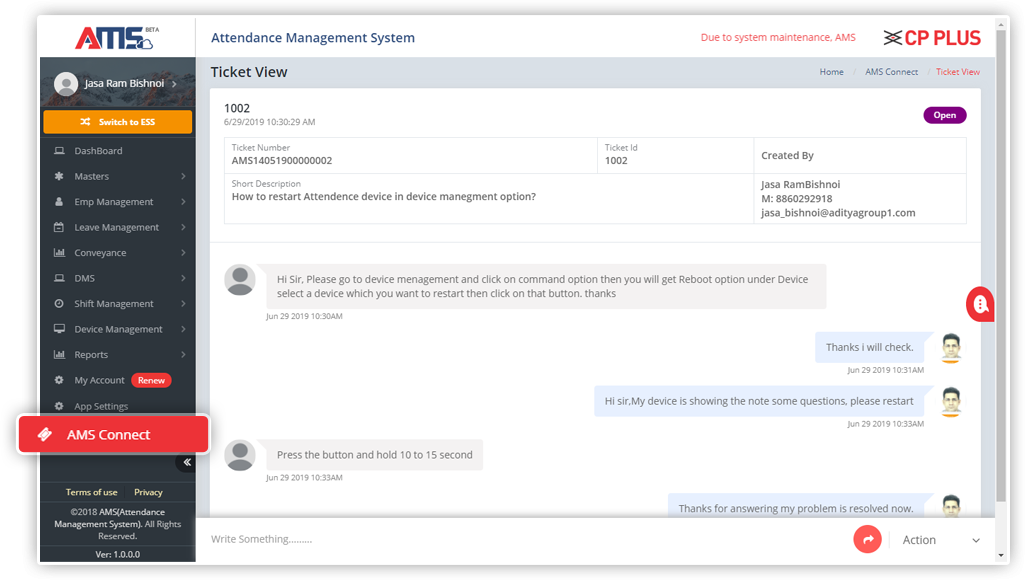 Other Details
A complete ticket ticketing system
Customer can create, view status and reply
Maintain histry of old tickets
Features
Fast support by technical team
Notification of ticket create and reply
Customer can view who and when replying
DMS (
Document Management System

)
DMS is a high-performance document management system that offers the power of enterprise document management to companies and organizations of any kind and size all around the world. organizations can upload employee document to DMS and can give acceess to employee. Employee can view, download their docuemnt. DMS is a robust document management system that can meet the needs of organizations of any size.
The system also includes administration tools to define the roles of various users, access control, user quota, level of document security, detailed logs of activity.
DMS builds a highly valuable repository of corporate information assets to facilitate knowledge creation and improve business decision making, boosting workgroups and enterprise productivity through shared practices.
The DMS File Plan is a set of rules that indicate, for each kind of record in the enterprise, where they should be retained, the policies that apply to them, how long they must be retained, how they should be disposed of, and who is responsible for managing them.
Benefits
Freedom
Convenience
Peace of Mind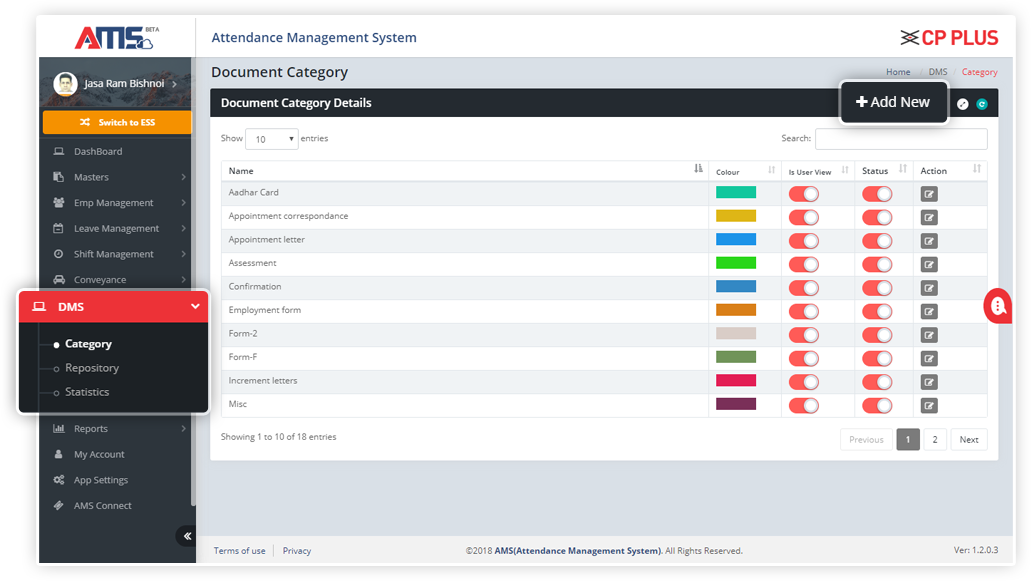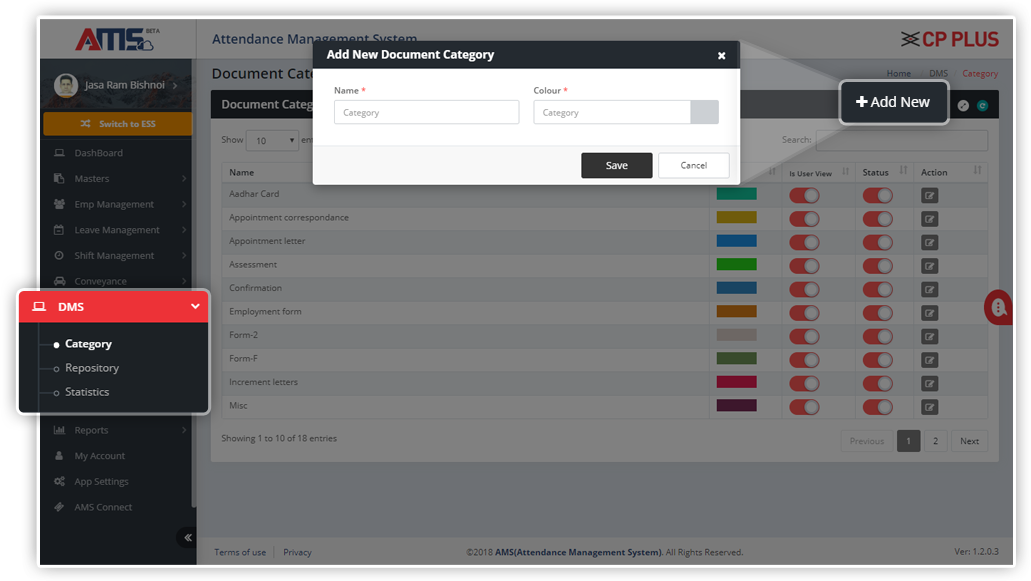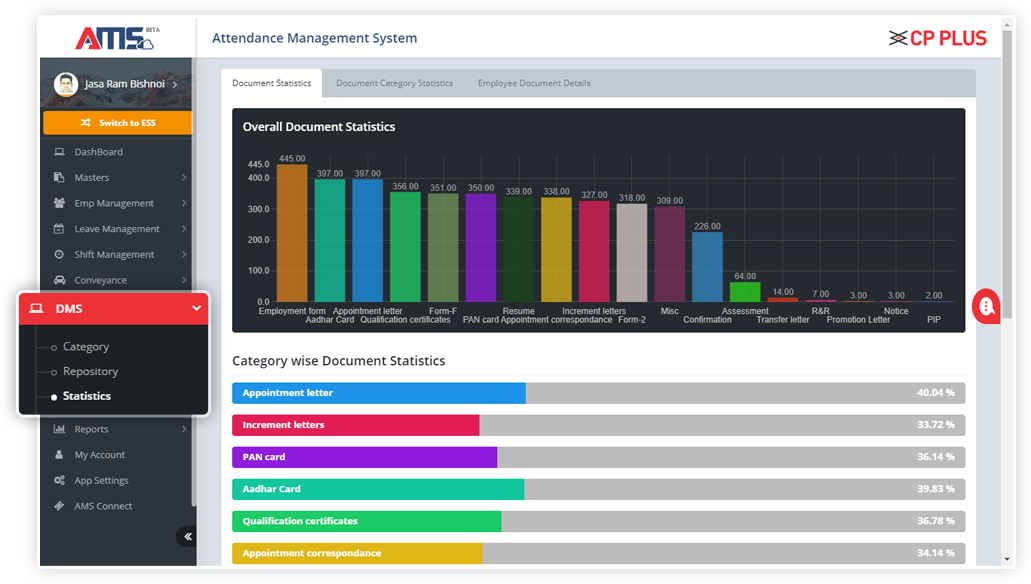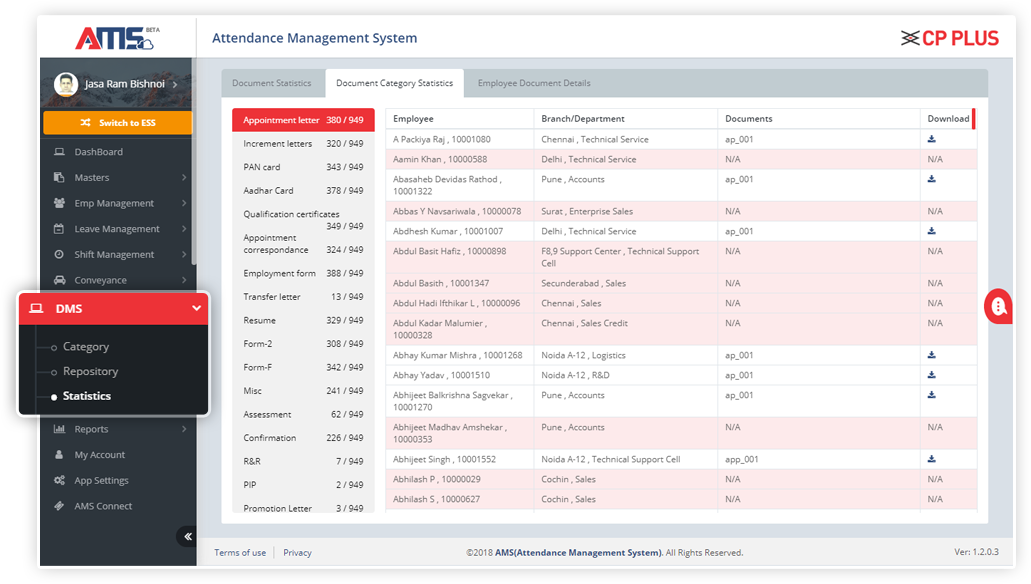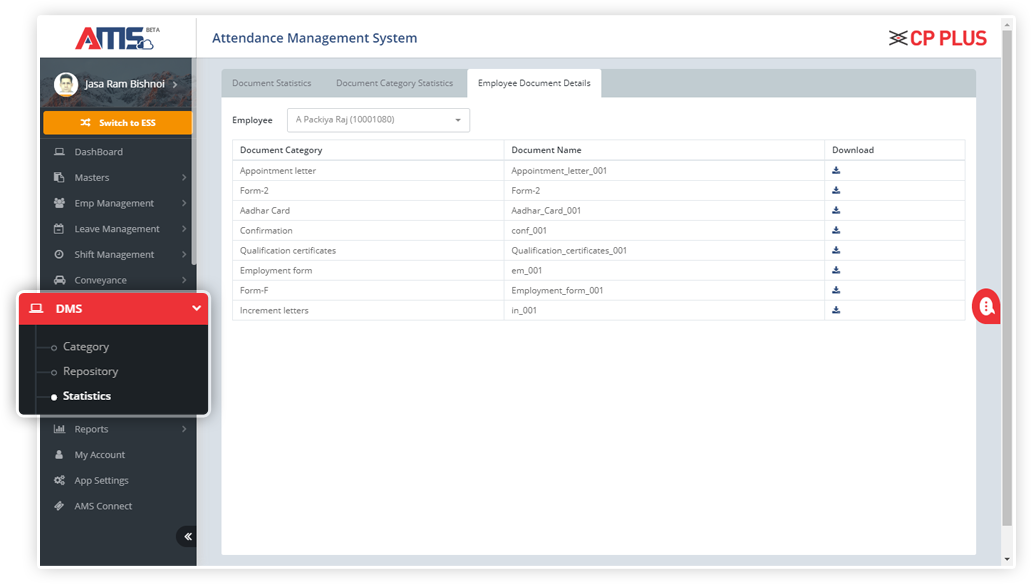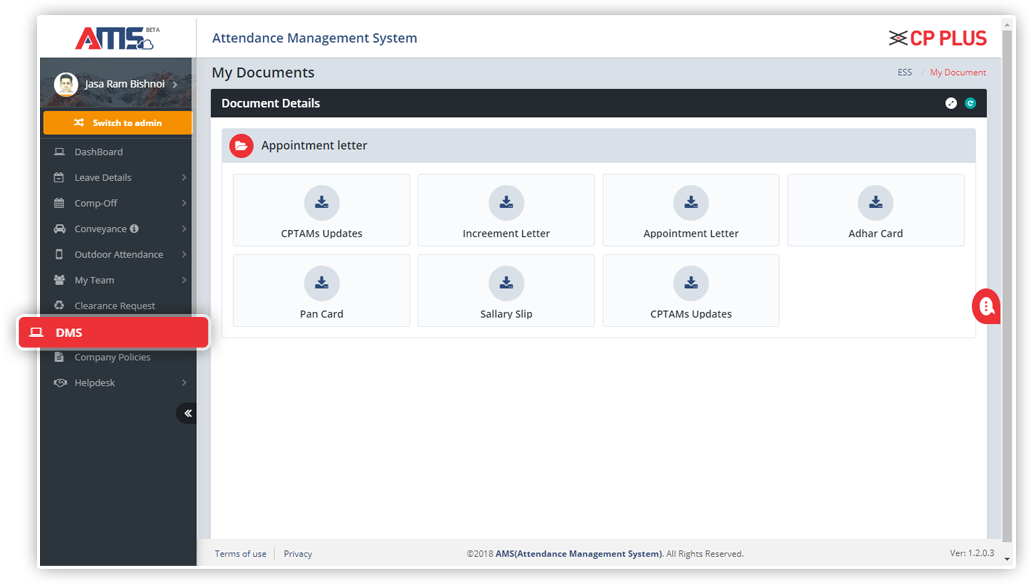 Other Details
Control your enterprise content.
Central document repository of organisation and employee.
Empower organizations to capitalize on accumulated knowledge by locating documents, experts, and information sources.
Enterprise content management features.
Manage digital content.
Manage documents.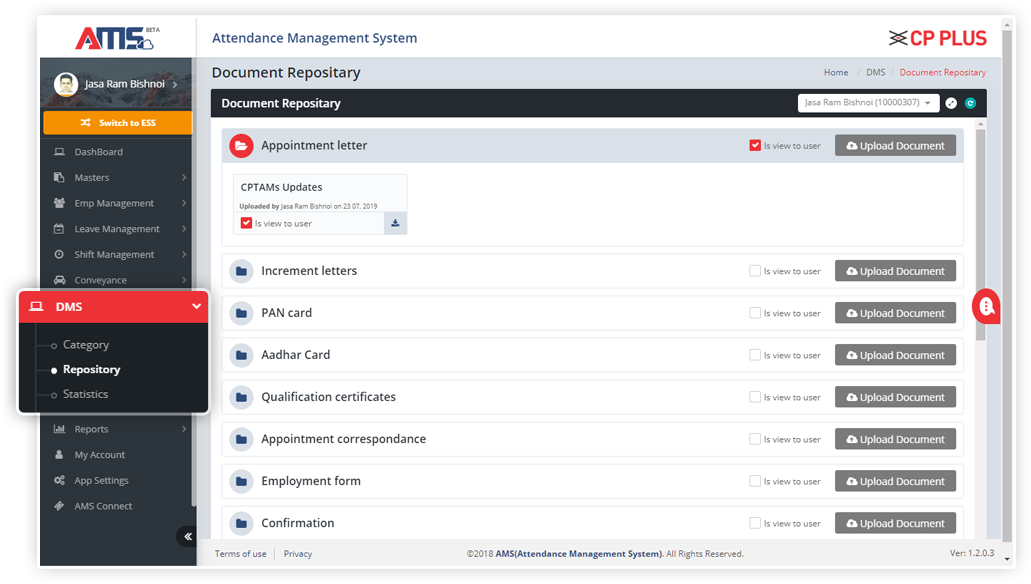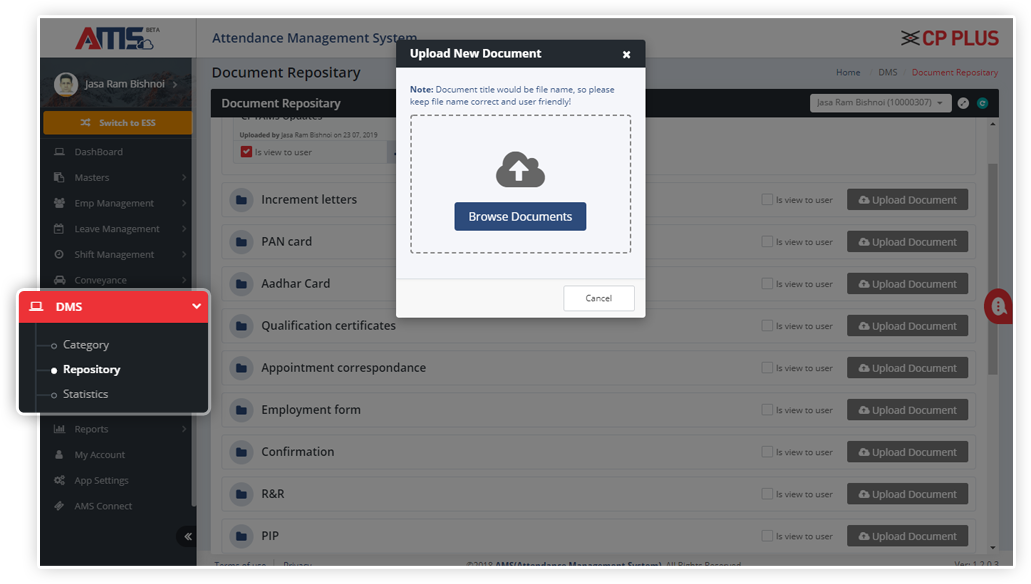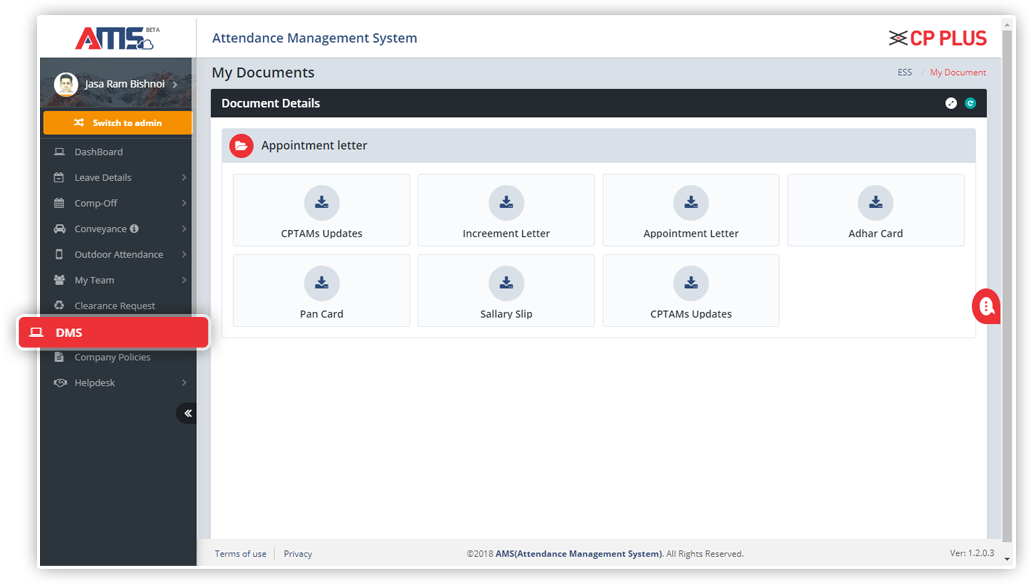 Features
Storage Location
Security and access control
Auditing and Indexing
Classification, Search and retrieval
Integrated with AMS ESS